University friends: By chance or by design?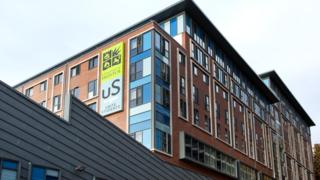 Students often end up making lifelong friendships with the fellow "freshers" they find themselves placed next to in their accommodation - but what determines who lives along side each other?
BBC research using freedom of information (FOI) laws has revealed some universities have perhaps surprising policies on how rooms are allocated.
One important educational benefit of going to university is learning to mix with, and getting to know, a more diverse range of people with different life experiences.
On the other hand, starting university can be a stressful event made easier if the students are surrounded by the kind of people they are familiar with, or likely to get on with.
Both are valid considerations, but they can be conflicting priorities, and different institutions resolve this dilemma in different ways.
Read full article University friends: By chance or by design?