Post-Brexit: Will a new leader of the EU emerge?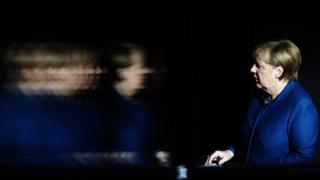 The prospect of Brexit looms large in Berlin these days and people are not happy about it. "We lose Britain, and we keep Italy: it's grotesque", one former minister commented ruefully to me.
That barbed remark lays bare a real anxiety among Germans, that somehow the European Union's centre of gravity will shift once the UK has gone, that a delicate balance will be upset, and it will not be in Berlin's favour.
Identifying Italy hints at one source of concern, that the southern Europeans will want to carry in their free spending way.
What was for a long time the subtext of European debates, that Germany can be expected to subsidise the others because of war guilt as well as the strength of its economy, became increasingly overt during the Greek debt crisis.
Now Italy, with far larger debts, is on a budgetary collision course with the EU.
Read full article Post-Brexit: Will a new leader of the EU emerge?