Blair: Social democracy needs 'narrative about the future'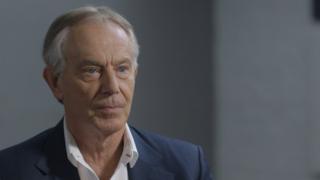 "The central problem of social democracy is simple", former prime minister Tony Blair said. "They've got to have a narrative about the future."
By his formulation then, the crisis of Europe's centre-left may have been long and painful, but it need not be terminal.
Finding that new narrative in a way that works across dozens of European electorates, is another matter entirely.
Certainly it won't happen before the European election starting on 23 May, where the centre-left may well find itself trailing the populist right.
Matteo Renzi, the former Italian PM, told Newsnight the fortunes of his Democratic Party are now a secondary matter.
Read full article Blair: Social democracy needs 'narrative about the future'