Brexit: Is Brussels ready to give UK more time?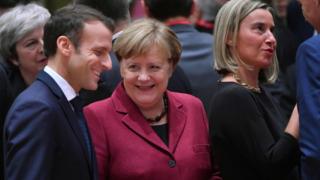 Publicly, the EU27 have told Theresa May the clock is ticking and that preparations for a no-deal Brexit are intensifying. Privately, the talk is all about extending the Article 50 period and defusing that time bomb due to go off on 29 March.
Brexiteers have long told us that the EU27 have much to fear from no deal, and in this they are right.
But where they're wrong - or seem to be from all the contacts one has in this city - is in their presumption that this fear of an exit without a deal would lead other EU members to compromise their principles or suddenly shift their own red lines.
Of this there is no sign. Instead the key European players - France and Germany - seem to be preparing fellow members for an extension to Article 50 in order to give the UK more time to change its mind.
As a senior German politician said to me just after the referendum result in 2016 - and referring then to the UK's invocation of Article 50: "Why press on the accelerator when you are driving towards a cliff edge?"
Read full article Brexit: Is Brussels ready to give UK more time?