Essex lorry deaths: Tricky task of catching the people smugglers
23 October 2019

From the section

UK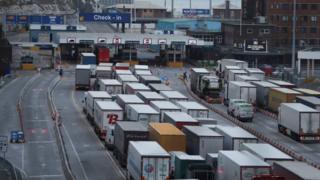 Since the Calais migrant camps were shut three years ago and security measures were increased at Dover and the Channel Tunnel, people smugglers have increasingly moved to other routes.
Asked which ports are being used, the National Crime Agency told me: "All of them."
More dangerous methods are being used to get human cargo through.
The most common one is being hidden in the back of a lorry, but increasingly commercial shipping containers are being used, sometimes even refrigerated ones of the type seen on the back of the truck in Essex.
Risks are substantial for the migrants, who can pay £10,000 or more for a space on these vehicles.
Read full article Essex lorry deaths: Tricky task of catching the people smugglers