Northern Ireland's historic Euro election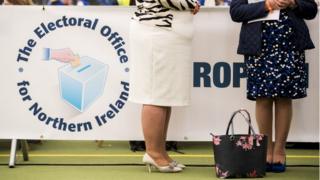 Given the arguments over the Brexit backstop revolve around treating Northern Ireland in exactly the same way as the rest of the UK, it's worth pointing out that we just elected our three MEPs using a completely different system from England, Scotland and Wales.
Voters in Great Britain marked their chosen party with an X, whilst in Northern Ireland you indicated your preferences with a "1, 2, 3" - and so on.
Single Transferable Voting takes longer to count than the party system, but means voters get multiple opportunities to influence an election - and no politician can fairly accuse another of "splitting the vote".
The STV system, coupled with Northern Ireland's tradition of not counting votes on a Sunday, meant the count in Magherafelt got underway long after most of the political battles in Great Britain had already been decided.
Endless counts
Traditionally, we journalists moan about bringing up the rear, having to sit through endless counts, whilst our counterparts "across the water" are already moving on to the next story.