Brexit: No imminent breakthrough in border backstop stand-off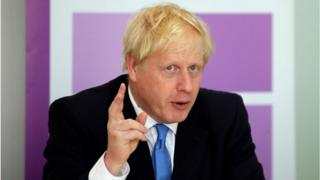 Boris Johnson's letter to EU Council President Donald Tusk doesn't point the way towards any imminent breakthrough in the stand-off over the Brexit border backstop and the ill-fated EU-UK withdrawal agreement.
However, one interesting aspect of the letter is the PM's willingness to tackle head on the assertion from Dublin and Brussels that their approach is simply intended to protect the status quo and the Good Friday Agreement.
That argument has resonated not just in Europe, but also in sections of the US political spectrum.
While President Trump and his senior officials have been upbeat about their willingness to seal a trade deal with the UK after it quits the EU, members of Congress have argued that Brexit poses a potential threat to the peace process.
Earlier this month, House of Representatives Speaker Nancy Pelosi warned that "if Brexit undermines the Good Friday accord, there will be no chance of a US-UK trade agreement passing the Congress".
Read full article Brexit: No imminent breakthrough in border backstop stand-off