Big Ben silenced - but Brexit clocks are ticking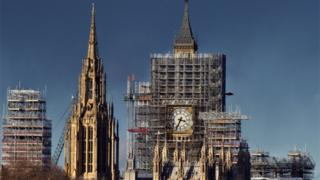 Last night, MPs engaged in a bizarre ritual leaping to their feet at the moment the debate on the meaningful vote on the Brexit deal should have recommenced.
An opposition MP beat the government whip to the punch by shouting "now".
But the Speaker made it clear he had to give priority to the whip's competing acclamation "tomorrow". A concerned Labour MP grabbed the ceremonial mace as a symbolic protest.
The parliamentary etiquette may be archaic but it served to remind observers there are some things governments can do that oppositions cannot.
Not so long ago the talk was that an amendment brought by the Conservative Dominic Grieve shifted the power over what kind of Brexit track the UK might eventually take from the PM to ordinary backbenchers.
Read full article Big Ben silenced - but Brexit clocks are ticking