Next Speaker's challenge to restore order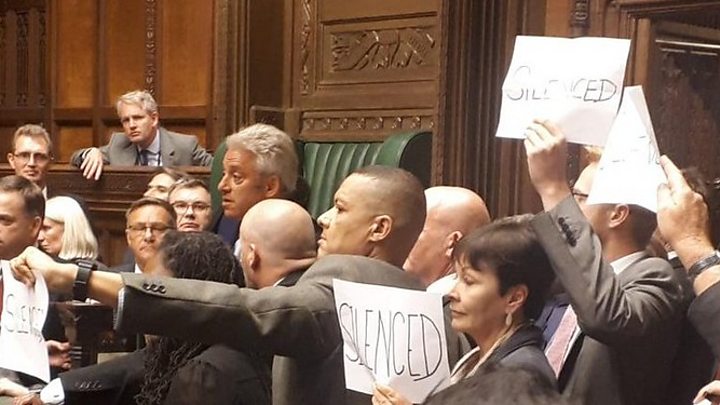 In spectacular style, the lid on the parliamentary tensions over prorogation and Brexit blew off last night.
The normal Pythonesque courtliness of the prorogation ceremony, with its Norman French and doffing of cocked hats, dissolved into something much nastier.
Opposition peers boycotted proceedings at the Lords end, while in the Commons, the arrival of Black Rod to summon MPs to hear the royal proclamation was greeted with a melee around the Speaker's Chair.
Doorkeepers grappled to keep angry MPs from - I'm not sure what? Maybe they intended to physically prevent John Bercow from leaving his seat, to halt the prorogation altogether?
Then there was a sustained chant of "shame on you" as Conservative and DUP MPs filed out towards the Lords, reluctantly led by Mr Speaker, and all the other parties stayed put and sang songs, including Jerusalem and Scots Wha Hae.