Week ahead in Parliament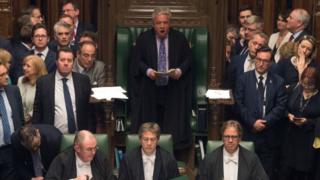 Abandon certainty, all ye who enter...
Next week's Parliamentary agenda exists - it's right there on the order papers for the Commons and Lords - but no one believes it provides any reliable guide to how events will unfold.
Brexit developments can be expected to reshape each day's agenda.
Among the likely additions to the schedule are another round of "indicative votes" on alternative Brexit options, a report back from the emergency EU summit on Brexit, and votes on orders to trigger the European Parliamentary elections and to postpone Brexit Day again.
There might even be another attempt by the government to secure a "Meaningful Vote" on the prime minister's withdrawal agreement, perhaps with some added content to win over Labour MPs.