The week ahead in Parliament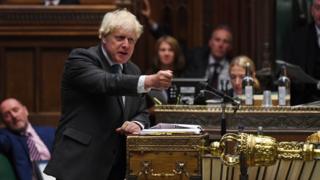 Will Covid-19 or the UKIMB dominate this week?
The published Commons agenda sees two days of debate on the UK Internal Market Bill, but there's a sense that developments relating to the pandemic are now moving pretty fast, so watch out for ministerial statements and urgent questions about the government's response.
On the Internal Market Bill, the government seems to have defused the backbench Tory rebellion in the Commons, with an offer of a further vote before powers to override international law come into effect.
But in the Lords, which takes its committees seriously, the bill may be a harder sell for ministers.
The Lords EU Environment Sub-Committee has accused Environment Secretary George Eustice of failing to acknowledge concerns over possible checks and controls on goods moving from the rest of the UK to Northern Ireland if the UK and EU fail to strike a trade deal.