Taliban conflict: Afghan fears rise as US ends its longest war
20 October 2020

From the section

Asia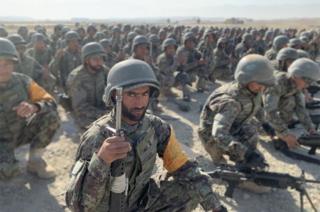 The Taliban are advancing while peace talks stall. What are the chances for peace once the last US-led Nato forces leave? Lyse Doucet looks at a critical time for Afghanistan.
The simple monument is stark and sharp-edged, a pointed block of black-veined marble memorialising a dark chapter in northern Afghanistan during a momentous history.
At this hour, as America edges closer to ending its longest war, it seemed fitting that a visiting delegation of senior American and Afghan military officers should pause at this spot to acknowledge a 32-year-old CIA officer - the first US casualty in the war to topple the Taliban in 2001.
Chiselled in Persian script and in English, this marble marker honours Mike Spann, who was killed in a frenzied and bloody battle in November that year: "A hero who sacrificed his life: for freedom; for Afghanistan; for the United States of America."
Nineteen years on, after the deaths of more than 3,500 coalition forces and more than 110,000 Afghans killed, the overriding concern is averting a chaotic conclusion - at worst another descent into civil war - as the countdown gathers pace for the gradual removal of the last US and Nato forces in Afghanistan.
'All sides' must reduce violence
Read full article Taliban conflict: Afghan fears rise as US ends its longest war