Iraq Yazidis: The 'forgotten' people of an unforgettable story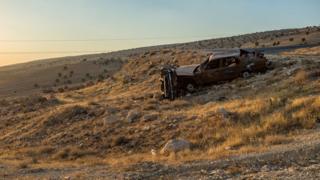 In the ancestral land of the Yazidis, a sacred mountain looms large.
A persecuted people has long seen it as their protector.
"Sinjar mountain saved me, and many other Yazidis, four years ago," says Hade Shingaly as we sit on thin mattresses covered with bright geometric patterns in his family's elongated tent.
It is perched in a tidy cluster of tarpaulin shacks on a mountain plateau in this remote corner of Iraq.
Through a window of plastic sheeting, we can see Sinjar's rocky brown slopes speckled with scruffy green shrubs.
Read full article Iraq Yazidis: The 'forgotten' people of an unforgettable story