MPs give views on EU membership
3 February 2016

From the section

England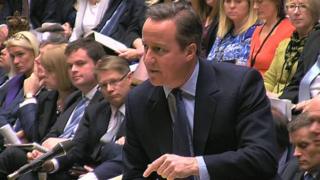 David Cameron was in the Commons today for his regular showdown with Labour leader Jeremy Corbyn at Prime Minister's Questions.
But instead of being the main event, it was merely the warm-up act for his statement in which he told MPs the government had reached an "important milestone" in its attempts to change Britain's relationship with Europe.
He called for them to support his draft deal on reforms to the European Union.
But David Cameron is under no illusions about how difficult his task of winning over Conservative MPs will be.
'Not convinced'
Recent research for BBC South East showed that even in the Conservative heartlands of Kent and Sussex only two Tory MPs at this stage would vote for the UK to remain part of the EU.