Labour anti-Semitism report: Corbyn's suspension exposes old divides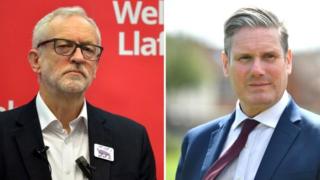 Despite a damning report on the handling of anti-Semitism allegations, Jeremy Corbyn's reaction to 130 pages that describe how Labour let Jewish people down was achingly familiar.
The former Labour leader stated his own anti-racist campaigning credentials, but then claimed that the prevalence of racism against Jewish people inside the party was overstated by those who wished him political harm.
That defence was circulating online shortly after 10:30 GMT, not long before his successor Sir Keir Starmer took to his feet, to confront the findings of the Equalities and Human Rights Commission (EHRC) report that details a shaming episode for the party.
Sir Keir's speech had already been written to include a vow that anyone who claimed the problem was exaggerated would have no place in the Labour Party.
The leadership said it had not seen Mr Corbyn's statement in full at this stage.
Read full article Labour anti-Semitism report: Corbyn's suspension exposes old divides