Brexit: Is Boris Johnson profiting from dividing?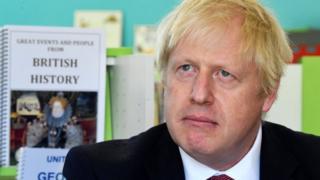 Not even a couple of months have passed, but it seems a lifetime since Boris Johnson said he wanted to bring the country together as he arrived in Downing Street as prime minister for the first time.
Because so far his time in No 10 has suggested he believes he will profit instead from a divide.
That's the crack that his team identifies between leavers and former remainers - described by one cabinet minister, as "those who either want to get things done that matter to people, or MPs who want to stand up and repeat ad nauseam the things they have been saying about Brexit for the last three years".
The "dividing line", is far from a new phenomenon in politics - it was beloved by Gordon Brown, then George Osborne too - maybe politicians since time began - a way of creating an easily understandable political choice for the public, a way for politicians to say "pick us or them".
But it's not just a line this time, it's like a toxic separation.
Read full article Brexit: Is Boris Johnson profiting from dividing?