Ex-civil servant boss Mark Sedwill makes concerns crystal clear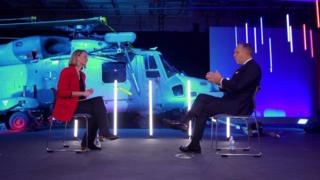 Surveying the Solent from the bridge of the vast Queen Elizabeth aircraft carrier, Lord Sedwill bursts out laughing.
Until only a few weeks ago he was at the helm of the government's handling of the coronavirus pandemic, the most senior civil servant in the country, the official who sat next, first to Theresa May and then Boris Johnson, during the cabinet.
And, if that wasn't enough, he was the national security adviser too.
His reason for laughing? When I asked him if he would rather still be in Whitehall or showing off the ship - the UK defence establishment's enormously expensive and advanced bit of kit - he couldn't contain his preference.
"I think you can tell!" he said, as he prepared to chair the Atlantic Future Forum, a government-backed conference being hosted from the carrier itself.
Read full article Ex-civil servant boss Mark Sedwill makes concerns crystal clear