Why Brexit Stage Two may turn into a rocky ride
9 January 2020

From the section

Europe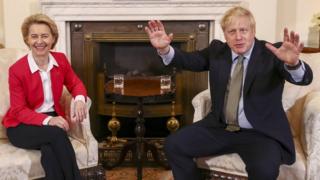 "Only as true friends can, I want to be very honest about what lies ahead of us." The words of the new European Commission president as she headed to Downing Street and her first face-to-face meeting with Boris Johnson on Wednesday.
What lies ahead of the EU and UK might, on the surface, appear relatively straightforward.
By the end of this month, both the European and the UK parliaments will have ratified a negotiated divorce deal. As of 1 February, the UK will no longer be an EU member and by the year's end, says Boris Johnson, an ambitious new trade deal will have been negotiated and signed off by both sides.
So is he right?
Will this be a year of bilateral plain sailing?
With Mr Johnson's considerable parliamentary majority, nothing stands in the way of Brexit taking place. 31 January will be a huge moment. For the UK and the EU. For very different reasons.
Read full article Why Brexit Stage Two may turn into a rocky ride