Baptism of fire for UK's new Brexit minister
19 July 2018

From the section

Europe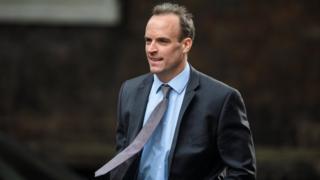 It's going to be quite a baptism of fire for the UK's new Brexit secretary on his first visit to Brussels in the new job.
He'll hardly have a foot through the door at the European Commission before he's faced with a barrage of questions. The EU wants clarity on the UK's negotiating position: is it based on Theresa May's Chequers cabinet agreement or the subsequent parliamentary amendments? Will the UK position change again in a few days or a week's time?
The EU's chief Brexit negotiator Michel Barnier then has another message he's hell-bent on delivering. Work with us, he will say to Dominic Raab, to finish the UK's exit deal - the so-called Withdrawal Agreement - otherwise the chances are rising of the UK crashing out of the EU without a deal come March next year.
Now coincidence of coincidences, just as Mr Raab arrives in town, the European Commission will publish a paper instructing EU governments to do more to prepare for the possibility of a no-deal Brexit which - it warns - would have a considerable impact on European businesses and citizens.
The paper mentions amongst other things the potential immediate impact on EU borders - with goods and people from the UK subject to customs checks. It predicts the aviation industry could be severely disrupted- with EU-UK airline and passenger rights agreements no longer valid. It advises that personal data transfers to the UK would be subject to new limitations and that the City of London would no longer have financial passporting rights.
Read full article Baptism of fire for UK's new Brexit minister