Indonesia election: Why one vote could put a thousand Indonesias at stake
16 April 2019

From the section

Asia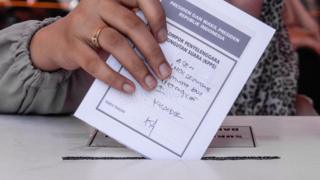 While the world marvels at Indonesia's staging of the most complex single-day election in history, the real challenge for the country runs far deeper.
A rising tide of intolerance could put the hard-won unity of the country with more Muslims than anywhere else on Earth - unique for being so geographically far-flung and culturally diverse - at real risk.
You often hear that Indonesia is a country of more than 17,000 islands, that it is multi-ethnic and multi-religious, but that really doesn't begin to capture the scale.
Indonesian President Joko "Jokowi" Widodo began his final election rally day speech by reading out a litany of names of different islands, speaking in many dialects to reach out to his supporters across this archipelago.
"Dari Sunda mana, sampurasun... Jawa Timur opo kabare rek. Dari Riau, Sumatera Barat, Jambi apo kabar?" ["People from Sunda, greetings to you....From East Java, how are you? From Riau, West Sumatra, Jambi, how are you doing?"]
Read full article Indonesia election: Why one vote could put a thousand Indonesias at stake