DeepMind founder Demis Hassabis reveals his darkest moment
6 November 2018

From the section

Business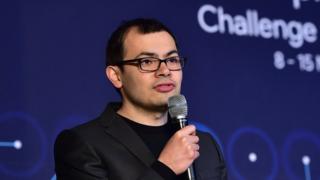 He is the child from North London who built a multi-million technology company, sold it to Google and is now widely regarded as one of the world's leading experts in artificial intelligence.
Demis Hassabis, the founder and chief executive of the London-based technology giant, DeepMind, has revealed that he almost failed in one of his first business ventures and was fortunate to avoid driving the gaming firm he started "into the wall at 100mph".
He said he endured "some really dark hours" - as had the teams working with him.
Mr Hassabis said much of his success was down to luck and also to being able to spot when he was becoming "self-delusional" about whether an idea was going to work.
In an interview for a new BBC podcast, The Disrupters, looking at the role of entrepreneurs in the economy and society, Mr Hassabis said that failure and being able to learn from it was an essential part of ultimately being successful.
Read full article DeepMind founder Demis Hassabis reveals his darkest moment