Mueller report: A president saved from himself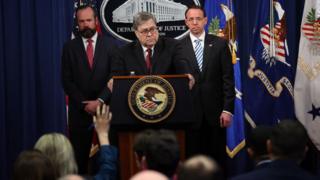 Lengthy reports on politics tend to be as dry as dust; a perfect cure for insomniacs; a turn on for political obsessives and a total turn-off for those with normal lives to lead. "Sorry darling, I can't come in for dinner now I'm reading appendix 6, paragraph 4 subsection 2 of this really gripping report."
Well my friends, the Mueller report really is a page turner, full of juicy revelations and intriguing titbits of palace intrigue. Its portrayal of life inside the West Wing a couple of years back is riveting. It is a place teetering out of control, with a succession of top advisers choosing to ignore the wishes of an increasingly angry president. There are so many fantastic vignettes.
But the report wasn't meant to entertain the American people - though it does, or would do if anyone chose to read it. It was meant to inform them on two key questions - whether there was collusion between the Russians and the Trump campaign - Mueller finds there wasn't. And whether the president obstructed justice in trying to impede investigation of the Russia question - on that he is a good deal more nuanced - he found 10 separate incidents where there might have been.
And it is here we come to my key question, which is ultimately political and not legalistic - will it change any minds?
I suspect that if you are a Trump supporter you will say: "There was no action of illegality, the president was right all along, it's all been a hoax and a witch hunt, there's nothing to see ladies and gentlemen so please move along."
Read full article Mueller report: A president saved from himself