Steve Bannon and Gary Cohn, two fierce rivals, shared one boss: Trump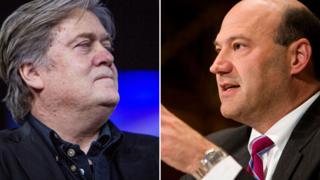 This is the tale of two interviews with two of the biggest beasts of the first year of the Trump administration - and two fierce ideological rivals.
Steve Bannon was the architect of Trump's election victory - the fight-picking, take-no-hostages, burn-it-all-down, disruptor-in-chief - who brought that approach into the White House as chief strategist. Bannon was the leader of the "build the wall", immigration-limiting, tariffs-work brigade. He would describe himself as an economic nationalist; his many opponents would prefer to use the epithet "racist".
Gary Cohn is cut from a different cloth. As de facto number two at Goldman Sachs, he was once tipped to run one of the most powerful banks in the world. Then he was brought into the White House to head the National Economic Council, which advises the White House on global and domestic economic policy.
This was a hugely powerful position that he used to give Trump his biggest legislative victory since coming to office: the package of tax cuts that is being credited with boosting consumer demand and making US companies more competitive globally with the corporation tax cut.
To spend time with them as I have these past few days is to feel you have lived through the battles that shook the White House and still continue to divide Republicans. And the settings of the interviews were equally stark. So were their demeanours.
Read full article Steve Bannon and Gary Cohn, two fierce rivals, shared one boss: Trump