Rain or shine: Watching the weather for 250 years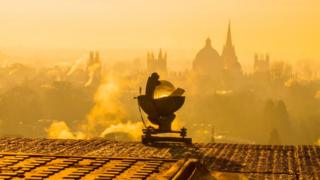 Come rain or shine, come howling gale or thick fog - Oxford doctoral student Emma Howard must keep her 09:00 appointment. Two hundred and fifty years of history demand it.
Emma is one of the data recorders who manually reads off the weather instruments positioned on the lawn next to the Radcliffe Observatory in Green Templeton College.
If she can't do it, a colleague must.
Temperature on this spot has been measured every single day since Sunday, 14 November 1813, making it the longest, unbroken, single-site time series of its kind in the British Isles, and one of the longest in the world.
"It's fantastic to be involved with the Radcliffe record, but I'm also terrified of something going wrong and messing up this wonderful thing," she says.
Read full article Rain or shine: Watching the weather for 250 years