John Simpson: My 50 years with the BBC
19 December 2016

From the section

World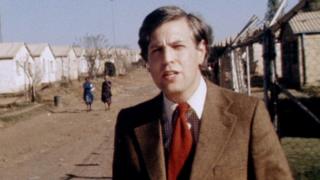 The world has changed hugely since the day in 1966 when I first started work at the BBC.
In those days, America seemed infinitely far ahead of the rest of the world. Russia was entering its long, sclerotic phase when no change, political or economic, was allowed. Mao Zedong was just about to impose the horrors of the Cultural Revolution on China. Europe was still getting over the ravages of World War Two.
As for Britain, it was a stodgy place, stuck in its old class system. It scarcely had a tourism industry: the idea that anyone might want to visit Britain for a holiday made people smile.
Within a couple of years or so, much of this had changed.
The United States was convulsed by the Vietnam War protests, and never quite got its old dominance back, the Soviet grip on Eastern Europe was challenged, Europe began its long rise to wealth and influence... and Swinging London became the capital of the world.