Brexit: What we know about May's compromise trade plan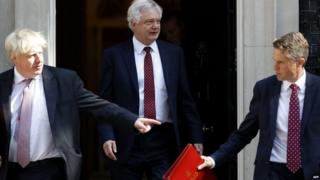 So, finally, Theresa May has found a way. Not to get Brexit over the finishing line, obviously. But at least out of the starting block. Or so she hopes.
Not to unite the Cabinet. No-one could do that. But at least to herd most of them into line behind her. Or so she hopes.
And if one or two can't or won't get with the programme - there's the door.
The door, of course, being the door of Chequers, her country retreat, where she'll gather her Cabinet again on Friday and try - very hard, apparently - to get agreement on her plan for a negotiating position which might, just might, fly in Brussels.
How, though? Theresa May's "red-lines" always look and sound very red and very clear. They did again yesterday in the Commons when she pledged Britain to leave the EU, the customs union and the single market.
Read full article Brexit: What we know about May's compromise trade plan