Donald Trump's highly personal style of diplomacy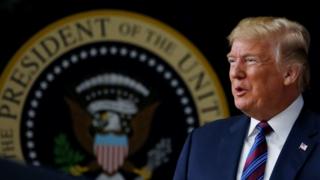 Donald Trump began his presidency as a reluctant traveller but he seems to be getting a taste for it. After his squabbles with the G7 in Canada and his bromance with Kim Jong-un in Singapore, the US president will in a few weeks' time once more venture forth onto the world stage.
This time Air Force One will descend on Brussels for the four-yearly summit of the North Atlantic Treaty Organisation. And in many European capitals, ministers are already biting their nails.
They know they will once again be urged by Mr Trump to spend more on their own defence. But what is worrying them more is the fear that Nato will be the next multilateral international organisation to be subject to the president's diplomatic fire and fury.
Last weekend the G7 summit was dominated by Mr Trump's decision to impose trade tariffs on his allies, a divisive act that meant the meeting ended in acrimony. The president signed up to the final communiqué and then withdrew his support, criticising his Canadian host with insulting tweets from Air Force One.
And now he has taken the extraordinary step of using this transatlantic trade dispute to cast doubt on his support for Europe's collective defence. "We protect Europe (which is good) at great financial loss, and then get unfairly clobbered on Trade," he tweeted. "Change is coming!"
Read full article Donald Trump's highly personal style of diplomacy