Six foreign policy issues the UK's new PM will face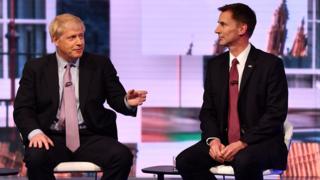 Boris Johnson and Jeremy Hunt are fighting to take over from Theresa May as the leader of the Conservative Party and the UK's next prime minister.
Central to the contest is an interpretation of what may or may not happen on 31 October, when Britain is scheduled to leave the European Union.
But whoever enters Downing Street will not only shape a fresh approach to Brexit, they will also have to make fundamental decisions about Britain's domestic and foreign policies that could have just as much significance in the years ahead as the immediate negotiations with the EU.
Both candidates have served as foreign secretary.
They should have a solid understanding of the international challenges facing the UK. But that doesn't mean either will necessarily have the right foreign policy to deal with them.
1. The United States
Read full article Six foreign policy issues the UK's new PM will face