UK, Australia & NZ 'punishing' Commonwealth Secretariat
19 February 2020

From the section

UK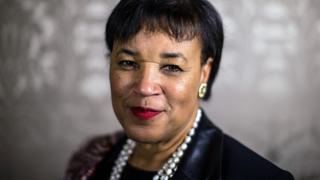 Commonwealth Secretary-General Baroness Scotland has criticised the UK, Australia and New Zealand for suspending their funding of the body that runs the international organisation, the BBC has learned.
In a confidential letter to diplomats in London, Lady Scotland describes the three countries as using a "big stick" to "punish" the Commonwealth Secretariat over concerns about its financial procedures.
She urged the countries to reverse their decision to withhold almost £7m a year, which she says has left her organisation facing a financial crisis. She claimed small member states in particular would suffer from the loss of funding.
In the letter, which was leaked to the BBC, the former Labour minister also appealed to Commonwealth diplomats to end what she called the "biased leaks" of "classified information" from within the organisation that, she claimed, had generated "malicious media stories".
Lady Scotland announced earlier that she had formally asked to be reappointed for a second four-year term of office.
Read full article UK, Australia & NZ 'punishing' Commonwealth Secretariat