Europe: The illusions of summer
30 August 2017

From the section

Europe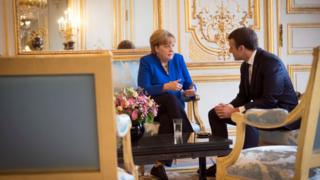 Europe's leaders feared 2017: the onward march of populism, the stagnant economies, the resentment of voters and the spread of Euroscepticism.
And then it didn't happen. Europe breathed again and even dared to believe that faith in the European project had been restored. Yet the story of 2017 is actually how little has changed.
The great mobiliser for the European cause has been Donald Trump.
Whatever their frustrations with Brussels, those who argue for deeper European integration see the rollercoaster of his presidency as strengthening their case, and some EU nations have sought to tighten the European embrace.
The year's turning point was judged to be the election of Emmanuel Macron.