Would a 'no deal' Tory government borrow as much as Labour?
2 December 2019

From the section

Business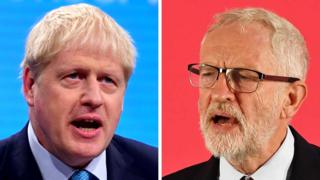 The Labour Party freely admits that its manifesto would lead to a marked increase in government borrowing.
In general it deploys an argument used by all parties, including the Conservatives, that there is a global consensus stretching from the IMF to Brussels and Tokyo to borrow more at currently cheap government borrowing rates in order to invest to increase productivity.
But it is borrowing all the same. At £55bn a year it is so much of an increase that Labour are yet to actually allocate it.
Add in the unfunded £58bn promise (£11bn a year) to compensate women state pensioners, and a reasoned expectation that Labour's plans will not raise £83bn solely off the rich and big businesses, and you get to annual deficit numbers of around 3.5% to 4% of GDP, according to both the Institute for Fiscal Studies (IFS) and the National Institute of Economic and Social Research.
The Liberal Democrat's fiscal plans, suggest borrowing of below 2%, according to the IFS, partly as a result of its aim to run a 1% surplus on day-to-day spending.
Read full article Would a 'no deal' Tory government borrow as much as Labour?