Why Roy Moore can still win in Alabama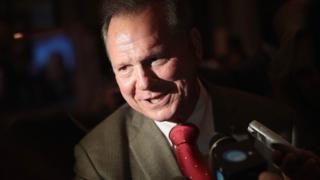 One week ago we were reporting from Alabama. An extraordinary Senate race is being played out in this Deep South state - between a Democrat, Doug Jones, and the Republican candidate Roy Moore.
Roy Moore has been called many things in his political life: a racist, a homophobe, a man who has said American Muslims shouldn't stand for office and that gay sex should be made illegal. He is considered to occupy a place far to the right of any other elected senator.
But all that paled briefly into the background this week after allegations emerged in the Washington Post - a number of women came forward to claim he had made unwanted sexual advances - including, one said, when she was just 14 years old.
A second woman claiming she'd been assaulted by him aged 16 has now come forward as I write this.
Roy Moore is not new to public office. He's twice been elected Alabama Supreme Court justice. He's twice been fired from that post - once for refusing to remove a monument of the Ten Commandments from the Alabama Judicial Building.