Migration data: Why is it so hard to count people?
22 August 2019

From the section

UK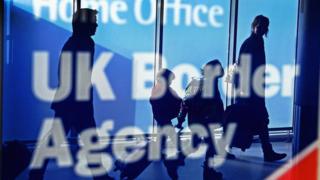 The UK's Office for National Statistics (ONS) has downgraded the reliability of its own method for measuring migration, after discovering serious flaws in its methodology. So do we ever really know the scale of UK migration?
The headline migration figure is the number of people arriving in the UK who are planning to stay for at least a year, minus the people who are leaving the UK and planning to be away for at least a year.
The latest figures for net migration from the European Union estimate that in the year to the end of March, 59,000 more EU citizens came to the UK than left. That is the lowest figure since 2013.
But that number is not the full story. It's not a spot-on accurate count. As of this week, it is merely an "experimental" statistic after the ONS concluded it has been systematically underestimating EU migrants and overestimating others. That means it is no longer one of the 850 trusted "national statistics" that drive decisions across the nation every day.
This is of little surprise to experts who have repeatedly warned of shortcomings. In fact, the ONS itself has long said the core component of the system had been "stretched beyond its purpose".
How has it been counting migrants?
Read full article Migration data: Why is it so hard to count people?