Warwick researchers bid to revolutionise coronavirus testing
25 June 2020

From the section

England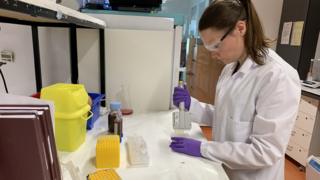 Getting a test to see if you currently have coronavirus isn't very pleasant. You need to stick a cotton swab far enough down your throat you'll likely gag and then attempt to poke your brains out via your nose.
The nasal swab in particular looks so distressing we debated if we could even film one for a recent report.
Then you have to wait for your samples to be sent to the lab, tested and the result to be sent back to you. A rapid response would be getting the final result in 12 hours, but it could take even longer.
Now a team at the University of Warwick say they have created a test for coronavirus that works just like a pregnancy test.
No need for medical staff or labs and with a clear result in about five minutes. At the moment they've been using nasal swab samples to test it, but they are confident it could work with a saliva sample.
Nify chemistry
Read full article Warwick researchers bid to revolutionise coronavirus testing