Disney bets the House of Mouse on streaming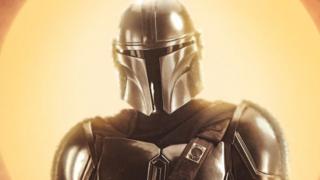 There's no question Disney produces incredible entertainment. The firm has had us laughing, crying and falling in love with its characters for almost 100 years.
But the launch of its eagerly-anticipated streaming service Disney+ - which goes live in the US, Canada and the Netherlands on Tuesday - will mean the legendary House of Mouse will need to be able to compete not just on programming, but technology too.
"We're making a huge statement about the future of media and entertainment and our continued ability to thrive in this new era," chief executive Bob Iger said on a call with his shareholders last week.
They'd just been informed of a 66% drop in profits, and a 50% rise in costs, mostly attributed to the move to streaming. Creating the Disney+ platform has been, and will continue to be, a hugely costly exercise - with no guarantee the rewards will ever materialise.
On the tech side, in 2017 the firm spent $1.58bn (£1.22bn) - in addition to $1bn it had already invested - to gain control of BamTech, a Manhattan-based streaming media specialist that previously helped US broadcaster HBO set up its streaming services.
Read full article Disney bets the House of Mouse on streaming