Tax rows and Christmas jumpers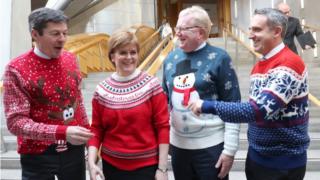 It was quite a sight, I can tell you. There I was, quietly mopping my fevered brow after broadcasting to an astonished nation (or at least that portion of the nation which accompanies me in spectating on First Minister's Questions.)
I wheeled round and there I perceived a selection of senior MSPs, struggling to don knitwear. One by one, they forced themselves into colourful, nay lurid, gansies, bedecked with holly and sundry Santas.
A few inquiries soon disclosed that this was to mark Christmas Jumper Day, promoting children's charitable work. To which endeavours, all power.
Once bejumpered, they all stood about, grinning, for all the world like a 1960s folk group. Any second now, I thought, it will be fingers to the ears and a verse of The Wild Rover.
Finally, the lead singer arrived as Nicola Sturgeon glided down the stairs.