Election eve exchanges at FMQs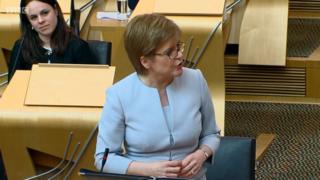 In times of turmoil, one turns instinctively to Marx. Groucho, that is. "Those are my principles", the sage declared, "and if you don't like them, well, I have others".
Such appears to be the common, sceptical verdict of the populace upon the political classes. The Brexit endeavour has scarcely improved their opinion.
And such also appeared to be the view of the first minister, aimed in the direction of her principal opponent, Ruth Davidson of the Conservatives.
Nicola Sturgeon suggested that Ms Davidson was an Olympic standard competitor in the hitherto unrecognised sport of flip-flopping.
There she was, endorsing a Brexit project she once castigated, rejecting calls to stay in the single market - and, horror upon horror, "cosying up to Boris Johnson".