Sturgeon saved from a Brexit-free FMQs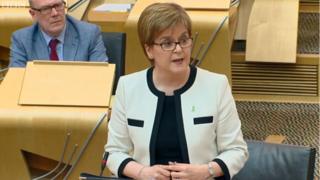 Somehow one could tell. Was the demeanour just faintly more eager than customary? Or was there an atmosphere, a political ectoplasm, offering a spectral clue?
Whatever, it seemed to this observer that Nicola Sturgeon was desperate to be asked about Brexit and the European elections.
Snag is it was obvious to the presiding officer too. And so, when it happened, Ken Macintosh intervened to suggest, gently, that Ms Sturgeon might tone down the overt electioneering.
Of course, he had alternative routes available to him, probably derived from his excellent BBC training. (Once imbibed, it doesn't leave you.)
He could have stepped in to say "other parties are available". Or he might have followed the practice generally adopted by BBC football commentators when industrial language is heard from the surrounding grandstand, perhaps anent the parentage of the ref.
Sensitive ears