Coronavirus: A route map out of crisis is revealed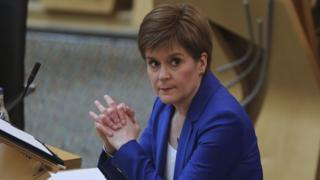 Nature can provoke a range of emotions. On observing Portobello beach in Edinburgh, Nicola Sturgeon was, she told us, moved to tears.
Just what had prompted this outpouring of first ministerial emotion? Was it the riparian beauty of Scotland's eastern shores? Or the defiant courage of our citizenry, risking the possible flight of the sun and its attendant heat, ever hazardous in an early Scottish summer.
No, Ms Sturgeon was upset that so many seemed prepared to overturn the lockdown and strict social distancing in pursuit of a little solar warming.
She got the concept, she said. She understood the temptation. But she warned that proximity gatherings like this risked the further spread of coronavirus. If repeated, such manifestations risked jeopardising the progress made thus far.
It was that which brought her close to tears. The thought that all the effort - not her effort, you understand, but that of a compliant populace - could be at risk.
Read full article Coronavirus: A route map out of crisis is revealed