Turnberry braced for Trump arrival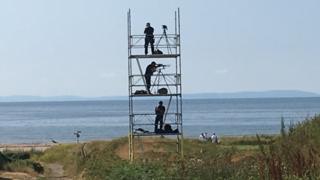 Here at Turnberry, they are ready. The preparations have all been made. The weather is looking fine and settled, albeit a fraction short of the tropical conditions of the last fortnight or so.
Yes, at Trump Turnberry, all is set for the big weekend wedding.
Meanwhile, the golfers are out on the famous links. I have played them myself in the past and can readily attest that they are notably challenging - with ankle-biting gorse and scarcely an accessible fairway on the course. But then my handicap is a little higher than three.
What's that? You're expecting me to write about Donald Trump? Well, firstly, the foregoing tosh is what is known to the wicked media as colour.
Secondly, I would plead that I am merely - and metaphorically - reflecting the faintly surreal nature of the entire visit thus far.