Trump Saudi statement: What the president's words reveal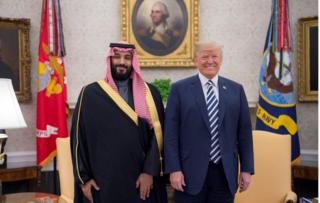 "Statement from President Donald J Trump on Standing with Saudi Arabia" - the title of the White House release leaves little doubt about where he comes down on the murder of Saudi journalist Jamal Khashoggi.
With the US Central Intelligence Agency reportedly poised to conclude that senior members of the Saudi Arabian government were responsible for Khashoggi's death, Mr Trump's move could be viewed as an attempt to pre-empt that finding and clearly indicate that a strong US-Saudi alliance will continue undeterred.
Each section of the exclamation-point-filled presidential statement (full transcript at foot of page) merits closer inspection.
America First!
The world is a very dangerous place!
Say what you want, the president knows how to write a good opening. In two lines, he offers a distillation of his foreign policy priorities - contrasting the supremacy of American interests with a dismal view of the rest of the world, where bad things often happen beyond US control.
Iran
Read full article Trump Saudi statement: What the president's words reveal