US election 2020: What to expect in Democratic debates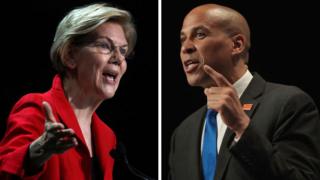 The first Democratic debates are like the opening round of a golf tournament. There's no way to win the prize right now, but plenty of ways to lose it for good.
The candidates, their visions and their plans will be put in the crucible on Wednesday and Thursday night. There will be more tests to come, but this is the first real chance to see how they hold up under pressure.
Here are five things to keep in mind as we settle in for the opening volleys of what is going to be a very long campaign season.
Big night for Warren
While the second debate night is getting most of the press, the first presents an interesting opportunity for the participants. Elizabeth Warren is the hot candidate right now, but this isn't the World Cup. There are no easy draws. The other candidates will have plenty of chances to make an impression in the two-hour proceedings.
Unlike the Republican "kids' table" debates four years ago that were largely ignored, the national media will be covering the event in full and looking for storylines beyond "Warren has plans".
Read full article US election 2020: What to expect in Democratic debates