Does Clinton email report help or hurt Trump?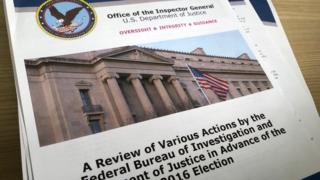 The Department of Justice Inspector General's report is out, and it doesn't pull its punches.
Over the course of 500 pages, Michael Horowitz has very pointed criticism of former FBI Director James Comey and other top FBI officials for their actions during the 2016 investigation into Hillary Clinton's use of a private email server while she was secretary of state.
Here's a rundown of the key players in the 2016 drama and what the inspector general's report means for them.
Donald Trump
The president will likely celebrate the fact that Mr Horowitz had critical words about James Comey and claim that it undermines the former FBI director's credibility going forward - but he'll be doing it for all the wrong reasons. His actions weren't part of a deep state conspiracy to help Mrs Clinton. If anything, they hurt her.
Rather than assailing Mr Comey for failing to charge Mrs Clinton with a crime - to "lock her up", as candidate Trump frequently urged - the inspector general said the former FBI director mishandled the way he announced her exoneration and displayed a "serious error in judgement" in telling Congress he was reopening the investigation on the eve of the election.
Read full article Does Clinton email report help or hurt Trump?