The rubbish collector left on the scrap heap as his city goes green
28 November 2014

From the section

Magazine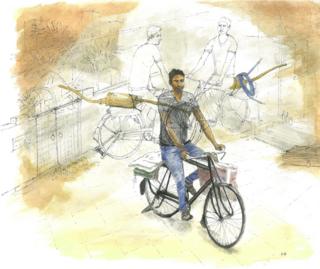 India's prime minister has ordered a drive to rid the streets of rubbish, but his Clean India campaign could spell the end for Delhi's army of informal rubbish collectors. I went to speak to them, with my sketchpad.
"Junk, bring out your junk," Lakhan Singh calls out, as he makes his daily bike round of one of Delhi's plushest neighbourhoods.
But no-one responds from behind the dense shrubs and high walls.
These leafy avenues of colonial-era bungalows were once his best source of saleable rubbish. But his bike rack, strapped with collection sacks, is empty.
Lakhan Singh, known as Lucky, is one of Delhi's army of informal waste collectors or kabadi wallahs - long a fixture of the city's street life and essential to the battle with rubbish in the absence of a comprehensive city-wide collection regime.
Read full article The rubbish collector left on the scrap heap as his city goes green