Have American newspapers given Donald Trump a gift?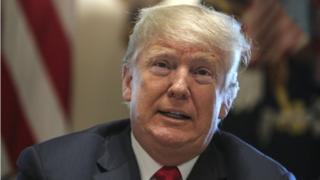 More than 350 American newspapers have co-ordinated editorials this week, condemning President Trump's attacks on the media.
The Bangor Daily News in Maine and Yankton County Observer in South Dakota don't usually have much in common.
But this week they belong to a collective effort by a somewhat beleaguered industry to declare themselves on the side of democracy. The implication being that the current occupant of the White House - in his attacks on traditional media at least - is not.
A generous interpretation of this joint effort is that solidarity is a precious asset in a trade that was battered by the internet long before it was battered by Mr Trump. By coming together to fight his undoubtedly vicious assault on the people he calls the "fake news media", newspapers might show that, together, they will not be cowed.
Moreover, aside from the editorials themselves, which between them will be read by millions of Americans, this joint effort is a marketing exercise. It allows titles, many of which have vanishingly few readers, to say "Hey, we're still here, busting a gut to bring you the news", even in the age of InfoWars and Twitter.
Read full article Have American newspapers given Donald Trump a gift?