Government hires top banker to woo overseas investors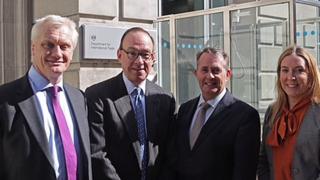 The Department for International Trade will on Thursday confirm the appointment of Mark Slaughter as director general for investment.
In this newly created role, the former Citigroup banker will lead cross-governmental efforts to attract foreign investment into the UK.
Mr Slaughter is a former Asia-Pacific head of corporate and investment banking for Citigroup.
He told the BBC the landscape for investment was encouraging.
"The world economy is fairly strong and people are feeling positive about investing," he said.
"The UK has a lot of things going for it, which we perhaps don't appreciate because we consider them a given, but things like the stability, openness, time zone, legal system are big attractions to investors from Asia."
On Brexit, he said: "Investors are still not clear what it means, but that is an opportunity to start a conversation."
The UK has traditionally been one of the top destinations in Europe for foreign cash, but after a record-breaking year of net inward foreign investment in 2016 - dominated by a few big foreign takeovers - 2017 saw more money flowing out of the UK than coming in.
International Trade Secretary Dr Liam Fox welcomed Mr Slaughter to his new role.
"As we increase trade and investment with partners outside of the European Union, someone of Mark's calibre, with extensive experience in Asia and the US, will be an invaluable asset to my international economic department," he said.
Although he has spent stints working in the US and then Asia, Mr Slaughter has been a UK resident for 20 years.
Mr Slaughter is the second banker to be handed a high-profile trade role in the last few months. Former head of Barclays Corporate Bank John Mahon was appointed as director general of exports in April.