Fresh light to be thrown on 'hidden' pension charges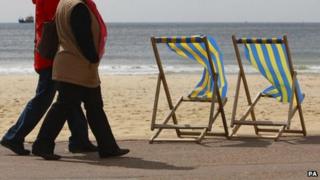 People who pay into company "defined contribution" pension schemes will be given much more information about the cost of investing their money.
The government is amending its own Pensions Bill, so that pension providers will have to declare the investment costs they incur on behalf of pension savers.
The new rules will be published soon, to start early next year.
The pensions minister said some charges might be limited or even banned.
"For the first time, we are shining a light into the murky corners of the pensions industry to make sure savers know what is happening to their money," said the minister, Steve Webb.
"These are charges nobody is really sure about.. with people taking money out of pensions which should be ending up in retirement income."
He added that the eventual changes required of the pension industry, part of a "full package" of reforms, would come into effect in early 2015.
Trading costs
Investment transaction costs - the cost of buying, holding and selling shares, bonds and other investments - are often referred to as hidden charges and are deducted directly from the savers' funds.
These charges are rarely spelt out by pension providers, either to the companies that employ them, or to the employees who save in the pension schemes via their monthly contributions.
Last year, a highly critical inquiry by the Office of Fair Trading (OFT) said that, partly because of these charges, pension savers were sometimes not getting a fair deal.
It pointed out that there were various types of investment cost:
commission paid to a broker when a transaction is carried out
bid-offer spreads - the difference between the price received when you sell a financial product (the bid price) and the price paid when you buy it (the offer price)
bank transaction charges
foreign exchange fees associated with a transaction
taxes such as stamp duty.
The OFT said that apparently small differences in such charges could, over time, have a dramatic effect in reducing someone's pension pot by the time he or she came to retire.
"For instance, a 0.5% annual management charge (AMC) over an employee's working life can reduce the overall value of a scheme member's retirement savings by around 11%, whereas a 1% AMC can reduce retirement savings by around 21%," the OFT calculated.
Administration costs
Last year's OFT report also highlighted other costs associated with running defined contribution pension schemes, such as:
administration of the scheme by the provider
investment management services
additional investment management expenses
adviser payments.
The OFT found that the first three of these charges were not accounted for in a standard fashion in the annual management charge (AMC) that the pension firms do disclose.
To stop these costs racking up extra expenses in an opaque fashion, Mr Webb has now said the government will press ahead to put a cap on the annual charges that pension savers pay, when they automatically enrol into defined contribution pension schemes.
Again, more precise details will be published soon.