BP sees biggest profit in 14 years as energy bills soar
By Michael Race
Business reporter, BBC News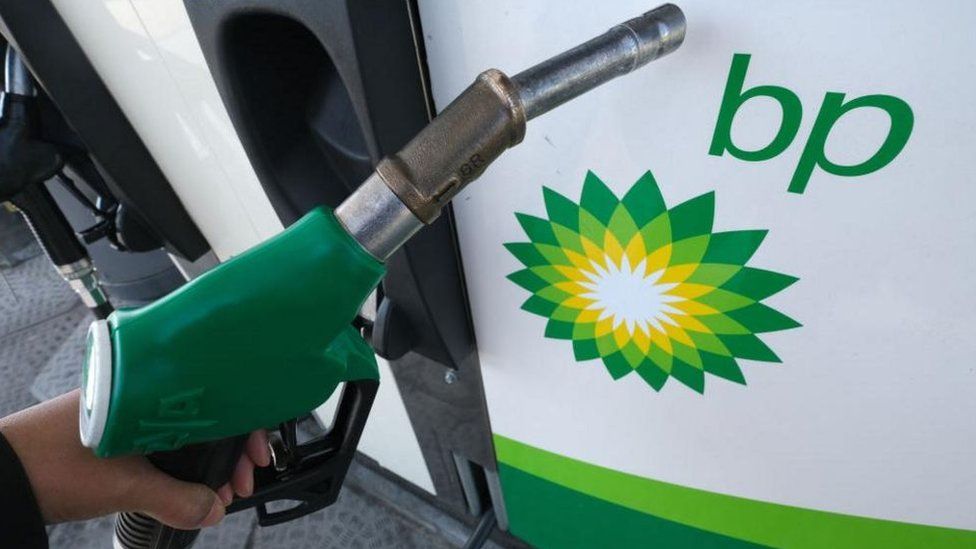 BP has reported its biggest quarterly profit for 14 years after oil and gas prices soared.
The energy giant saw underlying profits hit $8.45bn (£6.9bn) between April and June - more than triple the amount it made in the same period last year.
The bumper profits have prompted calls for the government to tax firms further to help families with rising bills.
BP's profits were the second highest for the second quarter in the firm's history.
Dale Vince, the founder of energy supplier Ecotricity said BP was "holding a shedload of money that is coming from hard-pressed bill-payers in our country", adding he believed it was time to increase taxation on the profits of oil and gas companies.
"Clearly there are exceptional windfall profits in the oil and gas sector, and clearly there's a problem in the energy market, and we should fix one with the other," he told the BBC's Today programme.
Campaign groups Greenpeace and Friends of the Earth as well as Labour and the Liberal Democrats also called for a tougher windfall tax on oil and gas firm profits.
Professor Nick Butler, a former vice president of BP, said he believed the energy giant was "very sensitive to the reputational problems of making money at this level".
He told the BBC there was a "real case" for the government calling together the industry "to find a plan to get us through the winter".
"You have Europe as a whole now cutting back gas use by 15% immediately, which is not happening here, and actually going out around the world to secure as much of the supply as they possibly can through the winter," he said.
The tax applies from 26 May to profit made in the UK, which for most oil and gas companies is a small part of their operations. For BP, it accounts for a tenth of overall oil and gas production.
BP will therefore not be required to pay the levy on the majority of the profits it made between April and June.
The Treasury said it did not comment on "individual taxpayers", but added it expected the windfall tax, called the Energy Profits Levy, to raise about £5bn in its first year.
Critics of a windfall tax argue it might hit pension funds invested in energy firms.
However, pension funds are invested across different countries and industries, so a tax in one sector is unlikely to make a noticeable difference.
What's driving up profits?
The huge increase in profits for firms has been fuelled by higher prices for oil and gas, which have risen sharply due to the war in Ukraine.
In recent months, Russia has reduced supplies to Europe following the invasion and fears are growing it may switch off the taps altogether.
The potential of gas supply problems has led to the wholesale price soaring, which has led to energy firms passing those costs onto customers - pushing up household energy bills by unprecedented amounts.
Dr Craig Lowrey, principal consultant at Cornwall Insight, told the BBC's Today programme that energy bills "at this point in time" looked set to stay high across 2023 and into 2024 and warned higher bills was "a long-term problem for households."
He said current government help would make a "dent" in higher bills but was "not going to offset this."
BP said its bumper profit results were driven by strong refining margins and oil trading. It announced it would boost shareholder payouts by 10% as well as buy back shares as a result of its higher earnings.
Last year, chief executive Bernard Looney described the energy market as "a cash machine".
But on Tuesday he said the company's staff had helped to solve an "energy trilemma" which he added was "secure, affordable and lower carbon energy".
In a conference call he added: "In terms of cost of living we all have to recognise that it's a very, very difficult place for people, not just, by the way, in the UK but across of the world right now.
"We understand that, we get it. Our people inside the company get it, they want to help."
Mr Looney said BP was "backing Britain" by investing £18bn in the country this decade.
The company said its half-year figures were affected by a massive £19.9bn hit from its move to ditch the its near-20% stake in Russian oil producer Rosneft in response to the Ukraine war.
Richard Hunter, head of markets at online investment firm Interactive Investor, said BP had "already made some strong progress" in recouping the financial pain of its Russian exit, adding BP's latest results were an "early indication of the company's ability to repair such damage".
The contrast is stark but inevitable. The same high oil and gas prices emptying the pockets of consumers are filling those of the companies that sell it.
BP's profit from April to June was triple the amount than last year and is the second highest in the company's long history.
The company said it would increase its payments to shareholders by £3.6bn in the next three months. Those shareholders include most pension funds but these numbers sit uncomfortably alongside new estimates that average annual energy bills will cost over £3,600 a year.
Insiders at BP and Shell, which announced record results last week, point out that a couple of years ago, both companies were losing billions and no-one was offering to subsidise their losses.
Both companies have profited from soaring internationally-set oil and gas prices as a rise in post-Covid global demand has been exacerbated by attempts to cut Russia out of the international energy market.