Heathrow hits back at 'bizarre' Ryanair criticism
By Noor Nanji
Business reporter, BBC News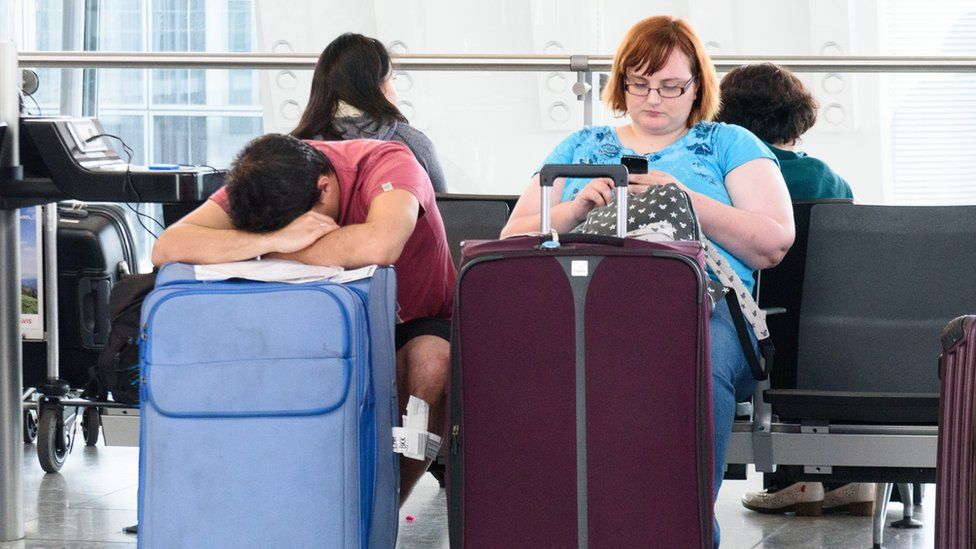 The boss of Heathrow Airport has hit back at criticism from Ryanair, saying it is "bizarre" to blame airports for not having enough staff.
John Holland-Kaye told the BBC it was up to airlines, not airports, to provide ground handling workers.
Thousands of passengers have faced delays and cancellations recently.
A shortage of staff has contributed to the disruption. Airports and airlines, which cut jobs during Covid lockdowns, have struggled to recruit workers as demand for travel has returned.
Ground handling staff are responsible for a range of services at airports, including loading and unloading baggage.
The row comes as the UK's largest airport reported a £263m pre-tax profit for the first half of the year. However, on an adjusted basis, which strips out the impact of changes in interest rates, Heathrow posted a loss before tax of £321m for the period.
On Monday, Ryanair's chief financial officer said airports had not recruited enough staff to cater for the rebound in travellers, saying they "had one job to do to".
Neil Sorahan said "various governments" and airports needed to be held to account for "not staffing up appropriately".
Speaking to the BBC's Today programme, Mr Holland-Kaye labelled those comments as "bizarre".
He added: "Airports don't provide ground handling, that's provided by the airlines themselves. So this is like accusing us of not having enough pilots."
John Strickland, an air transport consultant, said passengers "don't care who's to blame, they just want to get away".
"There's clearly a war of words going on," he said. "I think it's not helpful, as everyone in the industry is exposed to this challenge, from airlines to airports to third parties such as handling agencies."
Mr Strickland said that the pandemic had led to staff shortages across the industry, and that it was still taking time to build numbers back up.
"It would've helped to have a deeper engagement earlier, between airlines and airports, to avoid these problems," he said.
by Caroline Davies, BBC business correspondent
Airports blaming airlines. Airlines blaming airports. But when will travel settle down?
The long queues, lost bags and flight cancellations have soured the start of the summer for many travellers and left those still waiting to pack their suitcases feeling nervous about what awaits them.
Heathrow said today that the cap on departing passengers is working, improving punctuality.
It says the cap will be in place until airlines start to increase the number of ground handling staff which, by their estimates, might not be back to pre-pandemic levels for another 12 to 18 months. That means we could see the cap imposed again at busy periods like Christmas.
Airlines have repeatedly said issues like queues at security are nothing to do with them and that airports need to improve their plans to get back to normal.
But some airlines have struggled to recruit ground handling staff which has a knock-on effect on all the others.
The idea of the cap cropping up again after the summer will fill many airlines with dread.
Mr Holland-Kaye said the summer getaway had started well, but added that a shortage of airline ground handling staff was a constraint on Heathrow's capacity.
He added punctuality had improved since the airport introduced a daily passenger cap.
Earlier this month, Heathrow announced it was limiting the number of passengers who can depart each day over the peak summer months to 100,000.
Mr Holland-Kaye said: "We've seen a material improvement in performance since [the cap] came into place.
"Punctuality has improved, baggage performance has improved, and that shows that the difficult decisions we took two weeks ago are having the impact so that passengers can travel with confidence at Heathrow this summer."
Separately, EasyJet reported a pre-tax loss of £114m for the three months to the end of June, after taking a £133m hit from recent airport disruption.
The Luton-based airline blamed "widespread operational challenges" and a "tight labour market" for flight cancellations.
Speaking to BBC 5 Live, boss Johan Lundgren said: "There's no airline, there's no ground handler, there's no airport who hasn't felt the pressure and the squeeze."
But he added that EasyJet's operations have now "definitely stabilised", adding: "We are operating very much in line with 2019 levels of operational performance."