Millions start getting £326 cost-of-living payment
By Kevin Peachey
Personal finance correspondent, BBC News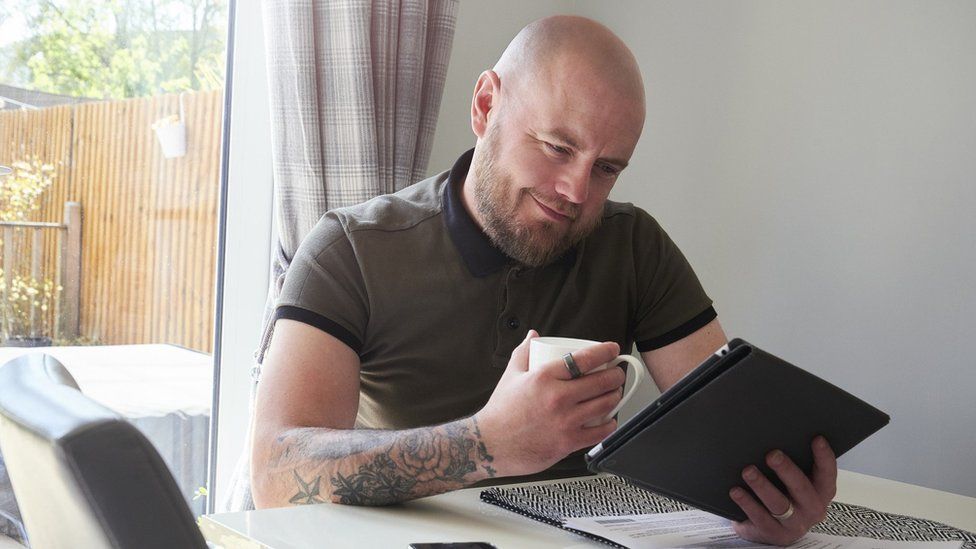 Direct payments to help with the soaring cost of living are starting to be paid by the government into eight million people's accounts.
Low-income households on means-tested benefits will receive the money automatically in their bank, building society or credit union account.
The first £326 payment will be paid by the end of July, marked as "DWP Cost of Living", the government has said.
A second instalment of £324 will be transferred in the autumn.
Together, they are the largest in a package of payments from the government designed to help with rising prices, and specifically soaring energy bills. Even so, recipients can spend or save the money as they see fit.
A spokesman for the Department for Work and Pensions said: "We are on track to process the first instalment by the end of July.
"All eligible households will automatically receive the first instalment, and no one needs to worry they will miss out.
"There will be a few unique cases - such as those who were not initially entitled but have gained entitlement upon appeal - who will be paid after July, as soon as possible."
Financial commentators say these payments will ease, but not cure, the financial strain families face this winter.
"It is a vital step in the right direction for those on lower incomes, but it is a small step back from the precipice after millions of people have edged ever-closer over the past few months," said Sarah Coles, senior personal finance analyst at financial services company Hargreaves Lansdown.
"It is a positive step for those on the lowest earnings, who have been hit three times harder than higher earners by rising prices. However, it is not enough to put people back where they were before price hikes."
The energy bill of every household will be discounted by £400 from October, and there will be extra payments to pensioners and people with disabilities.
However, the prospect of a typical household's winter energy bill increasing by more than previously anticipated has also raised questions over whether more financial support will be needed soon.
One industry analyst has predicted a rise of more than £1,200 a year in October. Cornwall Insight said that the typical domestic customer was likely to pay £3,244 a year from October, then £3,363 a year from January.
The typical bill at present is about £2,000 a year, which follows a £700 a year rise in April.
Those using prepayment meters have to pay slightly higher bills, and Citizens Advice has warned that the number of people seeking help because they cannot afford to top them up has reached a new record.
The charity said that, in June, it dealt with over 1,319 cases on its helplines of people on prepayment meters going without power, known as self-disconnection. There were no signs of the normal drop-off in cases during the summer months.
The number of callers who were disconnecting from their energy supply and seeking help was already higher this year than for the whole of 2020 and 2021 combined, the charity said.
Data seen by the BBC shows that Citizens Advice referred almost 700 people a day to food banks in June, almost 300 a day more than the same period last year. Between January and June this year, the charity has helped almost 120,000 people with "crisis support" - 52% higher than the same period last year, and 182% higher than in 2019.
Cifas, the fraud prevention organisation, has also warned that the rising cost of living and energy bills were providing criminals with new opportunities to steal victim's personal and financial information.
It said it was seeing a rise in phishing emails claiming to be from utility companies offering savings on energy bills, as well as offering fuel vouchers, fake jobs and money-making opportunities. These emails were becoming increasingly sophisticated, as were the websites which were used to collect people's personal information.
Mike Haley, chief executive of Cifas, said: "Everyone is at risk of being targeted by fraudsters, but the current economic crisis is making consumers even more vulnerable."