Heathrow tells airlines to stop selling summer tickets
By Noor Nanji
Business reporter, BBC News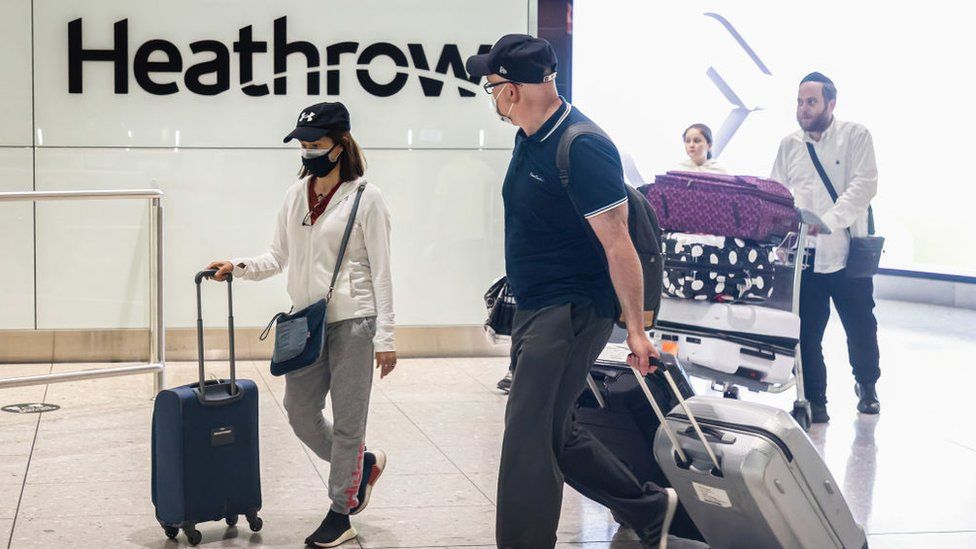 Heathrow Airport has told airlines to stop selling summer tickets, as the UK's biggest airport struggles to cope with the rebound in air travel.
The airport is limiting the number of passengers who can depart each day over the peak summer months to 100,000, 4,000 fewer than currently scheduled.
The cap on passenger numbers will be in place from now until 11 September.
Thousands of UK travellers have been affected by disruption in recent weeks, including last-minute cancellations.
Airports and airlines, which cut jobs during Covid lockdowns, have struggled to recruit staff as demand for holidays has returned. The UK is about to enter the key summer holiday season as schools begin to break up.
Consumer group Which? urged Heathrow to clarify which flights would be cancelled as a result of the latest announcement.
"While this cap may ease the unacceptable chaos passengers are facing at the UK's biggest airport, thousands of people will now be worrying about whether their flight or holiday plans are about to fall apart," said Guy Hobbs, acting editor of Which? Travel.
"Heathrow must work with airlines to quickly provide clarity on which flights are being cut, and airlines need to be upfront with those passengers affected about their right to be rebooked at the earliest opportunity, including on services from other airlines."
A Heathrow spokesperson said it would take "a couple of days" for airlines to work with the scheduling company, Airport Coordination Limited, to decide what changes would be needed.
Ministers told carriers to review their plans after chaos in May, blamed on a shortage of airline and airport staff.
In addition, a temporary government "amnesty" to the rules on airport slots was put in place, allowing airlines to change their summer schedules without facing a potential penalty.
But despite this, Heathrow said airlines were still planning to operate flights carrying more daily passengers than could be processed in an acceptable manner.
"Over the past few weeks, as departing passenger numbers have regularly exceeded 100,000 a day, we have started to see periods when service drops to a level that is not acceptable: long queue times, delays for passengers requiring assistance, bags not travelling with passengers or arriving late, low punctuality and last-minute cancellations," said Heathrow boss John Holland-Kaye.
"Our assessment is that the maximum number of daily departing passengers that airlines, airline ground handlers and the airport can collectively serve over the summer is no more than 100,000.
"The latest forecasts indicate that even despite the amnesty, daily departing seats over the summer will average 104,000 - giving a daily excess of 4,000 seats. On average only about 1,500 of these 4,000 daily seats have currently been sold to passengers, and so we are asking our airline partners to stop selling summer tickets to limit the impact on passengers."
But Willie Walsh, director general of the International Air Transport Association and a former head of British Airways (BA), was sharply critical of Heathrow's move.
"To tell airlines to stop selling - what a ridiculous thing for an airport to say to an airline," Mr Walsh told Reuters.
"I am surprised Heathrow have not been able to get their act together better than this. Airlines have been predicting stronger traffic than Heathrow has been predicting... they clearly got it completely wrong."
He added: "Heathrow are trying to maximise the profitability that they get from the airport at the expense of airlines."
It's a painful admission for Heathrow - but one that could be considered inevitable.
The airport has been struggling to cope with a surge in passengers, following the removal of Covid-related travel restrictions.
The results haven't been pretty. Long queues, delays, last-minute cancellations, busloads of orphaned bags and plenty of very angry travellers.
Staff shortages have been a key problem - although Heathrow places most of the blame on airlines for failing to bring in enough ground handling workers.
But some airline people tell a very different story.
They claim Heathrow drastically underestimated passenger numbers, despite plenty of warnings, and accuse the airport of "terrible mismanagement".
It has even been suggested Heathrow deliberately "lowballed" its passenger forecasts, as part of a campaign for permission to raise charges on airlines.
But its move looks set to cause further aggravation for travellers during what has already become a pretty miserable summer.
But they are still below pre-coronavirus levels, when the airport saw roughly 110,000 to 125,000 daily departures.
Mr Holland-Kaye apologised to passengers whose travel plans might be affected by the move.
"But this is the right thing to do to provide a better, more reliable journey and to keep everyone working at the airport safe."
Virgin Atlantic said it "stands ready to deliver its full schedule this summer".
"However, we support proactive measures being taken by Heathrow to reduce disruption, as long as action proposed does not disproportionately impact home carriers at the airport.
"Action should be based on thorough analysis showing the most effective measures to improve the situation and keep customers moving."
Are you concerned about booking a holiday? Do you work in the industry? Share your experiences by emailing haveyoursay@bbc.co.uk.
Please include a contact number if you are willing to speak to a BBC journalist. You can also get in touch in the following ways:
If you are reading this page and can't see the form you will need to visit the mobile version of the BBC website to submit your question or comment or you can email us at HaveYourSay@bbc.co.uk. Please include your name, age and location with any submission.