National Grid reveals £54bn wind power network upgrade plan
By Simon Jack
Business editor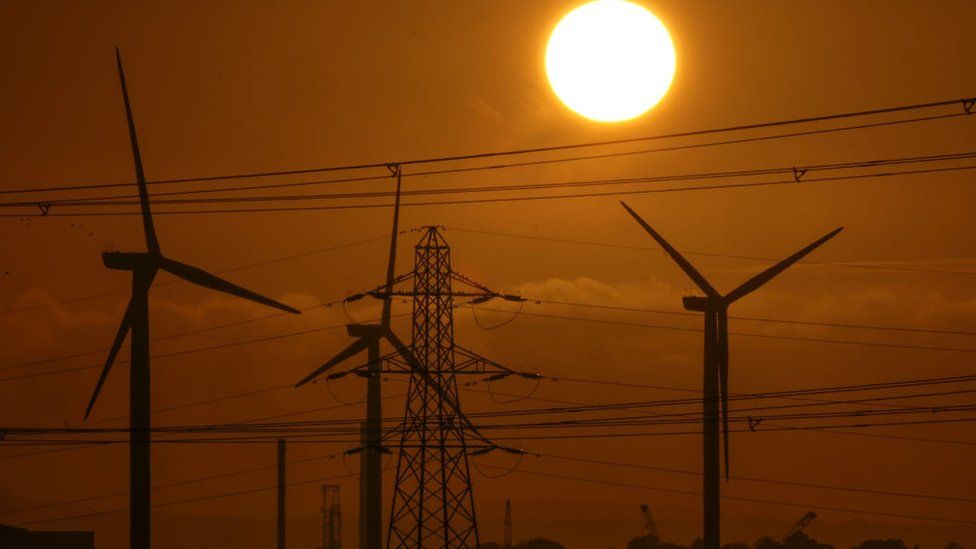 A huge upgrade of the UK's electricity network would see a host of pylons and cables transporting power from offshore wind farms around the UK.
Power lines from Anglesey to Swansea, Grimsby to Hertfordshire, and Loch Buidhe to Spittal would be built to pull electricity from the sea to the mainland then to homes and businesses.
National Grid ESO said it was the biggest network upgrade in 60 years.
But critics have called the £54bn project "short-sighted and shameful".
There are now more than 11,000 wind turbines on and offshore, which produce nearly a quarter of the UK's electricity.
National Grid ESO, which runs the electricity network, said the plan it has laid out would enable the government to deliver 50GW of offshore wind power by 2030 - a third of the UK's electricity demand - while creating 168,000 jobs.
It claimed the network could lead to more than £50bn of investments over the next eight years.
While it has not stated if the new onshore cabling would be above or below ground, it acknowledged that "the nature of the infrastructure required means the design cannot be without impact".
Previously announced onshore power lines, which are yet to be built, will span large areas of rural East Anglia to the anger and dismay of some.
Rosie Pearson, a spokesperson for the group Essex Suffolk Norfolk Pylons, said the plans failed "abysmally" to address the concerns of "over 21,000 who have signed a petition calling to have this network offshore".
"It's short-sighted and shameful," she said. "East Anglia is being thrown under a bus while significant additional offshore networking over much longer distances has been recommended for Scotland and North England."
Currently, most new offshore windfarms build their own link to the grid. But National Grid ESO said having a "holistic network design" would result in a better connected network.
This would reduce the environmental impact which would save consumers over £5bn in costs by 2030, it said.
Fintan Slye, executive director of the company, said the plans were a "a key step in providing certainty to offshore wind developers and mitigating potential impacts on the environment and local communities from energy infrastructure".
A number of new sites have also been proposed on the west coast of Scotland and Lincolnshire "which will impact coastal communities" according to the report detailing the proposals.
It added that public consultations and environmental assessments would be required, and the BBC understands that MPs from areas likely to be affected were briefed by National Grid ESO earlier this week.
These network upgrades are deemed essential to accommodate and integrate a new raft of renewable energy projects also announced on Thursday.
A total of 23 gigawatts (GW) of electricity - 24 million homes worth at current power usage - worth of contracts were awarded this morning to bidders wishing to build new renewable facilities.
The auction saw offshore wind prices hit a new record low at a quarter of the current cost of gas generated power.