Can drumming reconnect you to your colleagues?
By Katherine Latham
Business reporter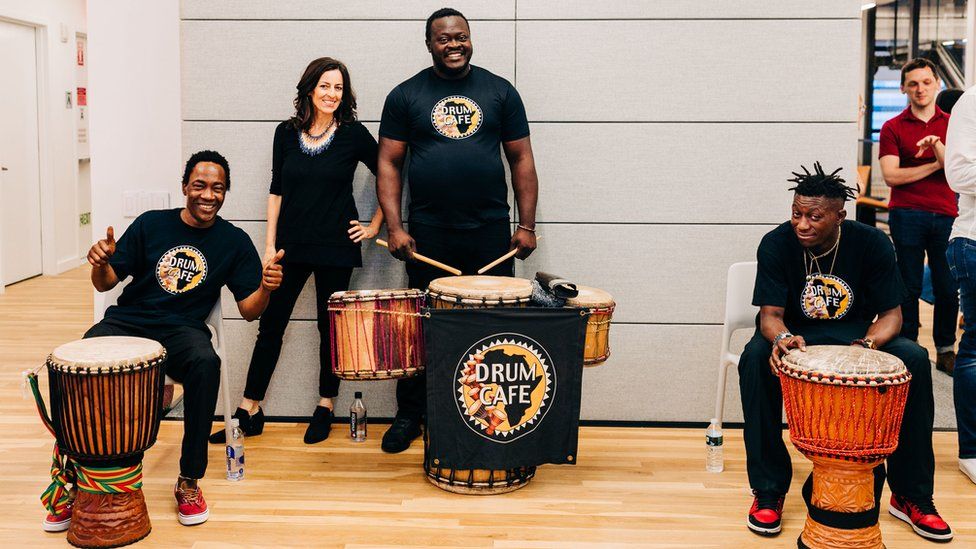 The performers are already on stage as the audience filters into the auditorium. A drum sits on each chair.
The leader picks up his instrument and tentatively, without a word, everyone else does the same. He plays a phrase and the audience answers.
Layer upon layer of rhythm, intensity and complexity builds. Drum rolls rise and fall in waves, culminating in a thunderous crescendo until - as if by magic - we feel as if we've been performing together for years.
Even though I join in via video and use my table as a drum, I can feel the energy and I can sense the human connection.
The session, organised by Drum Cafe, is a team building exercise. Typically the instructors will join the participants at their office, or an away day venue.
Everyone can join in the easy-to-follow rhythms, which are interspersed with complex solos from the professionals.
"We walk in rhythm, our hearts beat in rhythm. We all have rhythm. Even with as many as 5,000 participants, we can play in unison," says Brett Schlesinger, director of Drum Cafe UK, Europe and Cape Town.
He says the pandemic has left "tension in the air".
"When people arrive, there are often feelings of negativity, stress and uncertainty. We offer people a moment of release. They leave refreshed, emotionally purged - feeling the joy of reconnection."
Prof Amanda Weltman, an astrophysicist at the University of Cape Town, and her team experienced the Drum Cafe effect first-hand in 2019.
"It was profound," she says. "We were guided to learn several rhythms and, very quickly, this crowd of strangers was moving as one. It was like watching a school of fish swimming together. In that moment, I felt buoyed. I felt part of something."
With more people than ever working from home, it's a big challenge for companies to build a sense of common purpose.
"Feelings of closeness and belonging to a social group are basic needs for every human being - and work is no exception," says Dr Cristian Vasquez, an occupational psychologist at Sheffield University.
He points out that virtual interaction does have benefits. It allows organisations to hire workers from different cities and nations, and to extend the working day beyond the time zone of the office.
But there are big drawbacks: "It impairs spontaneous daily interactions, generates mistakes due to misunderstanding and lack of co-ordination, causes delays due to geographic dispersion, and disrupts work-life balance. All of this can negatively impact employees' well-being."
Problems with technology were cited as a major cause of this stress and, while employees say they're having more meetings than ever, they also feel more isolated than ever.
Researchers from the University of South Carolina think this is because it is too difficult to pick up on colleagues' non-verbal cues such as gestures and facial expressions when the communication is virtual.
The result: a sharp deterioration in professional relationships impacting productivity, efficiency and innovation.
Danish company virtualteambuilding.eu is one of many firms trying to mitigate that problem, with virtual team building services.
Its events are 100% live and feature rooms set up as bank vaults, police stations, desert camps or morgues.
Participants have to work together to solve murder cases or survive in a desert.
"People were missing the experience of 'something else'," says event co-ordinator Line Christiansen.
She says the events are particularly helpful for new members of staff trying to fit in.
Despite the challenges of the virtual workplace, people don't want to go back to the office.
In a global survey conducted by ADP earlier this year, almost two-thirds of respondents said they would consider quitting their job if their employer asked them to go back into the office full time.
Scott Callard, owner and instructor of outdoor adventure company, Adventure South, sees a future where remote working is combined with some days in the office and team building events.
"Real-life human interaction can never be replaced by virtual. The psychological benefits of escaping the office, or a mundane routine, have no substitute," he says.
Today, the water at North Sands Beach, Salcombe, is a chilly 14C. The golden sand slopes gently into the sea where eight paddleboard novices await instruction.
"These events allow co-workers to understand each other better," says Mr Callard, "to create a rapport with colleagues and bosses, to express themselves in a way not possible online."
Adventure South offers rock climbing, water sports and their outdoor escape room games, "Escape the Hills".
"We don't have a typical day," says Mr Callard. "One day we could be running a coasteering (scrambling along the coastline) trip for a group of 20 and the next we might be delivering a private paddleboard lesson."
Mr Callard thinks the pandemic has given people a greater appreciation for in-person team building.
"In today's world, we need to separate ourselves from digital devices. We need a digital detox, to reconnect with our human senses."
In New York, another Drum Cafe session is hotting up. A hundred people pick up their drums and experience something new, drumming in perfect unison.
"That surge of unity, inspiration and pure rhythmic power… after 18 years, the hair still stands up on my arms when I lead a group," says Aviva Nash, co-founder of Drum Cafe USA.
"Today, we are all more appreciative of real life experiences. It has been a tough couple of years. We need to heal. "