Heinz products off Tesco shelves after pricing dispute
By Lucy Hooker & Jennifer Meierhans
BBC business reporters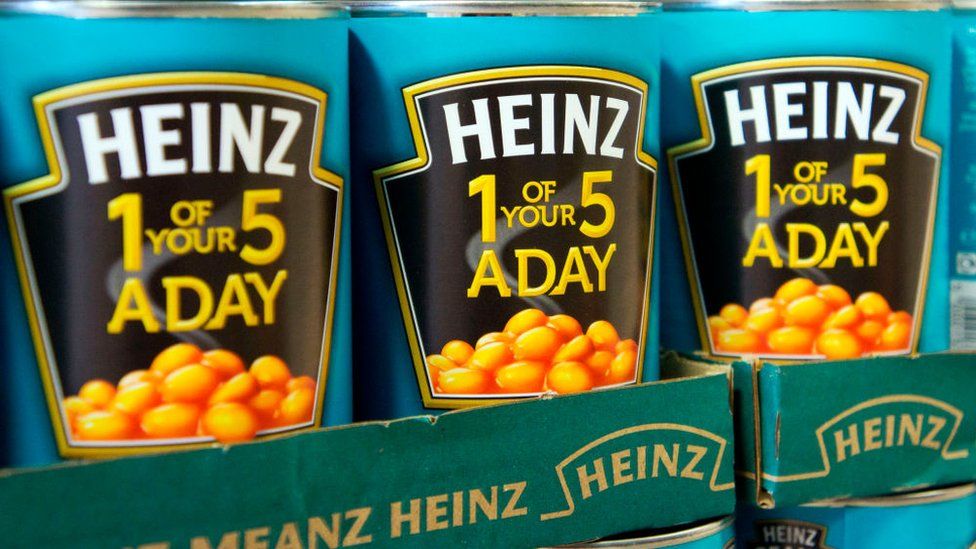 Heinz has stopped supplying Tesco with some of the UK's family favourite products in a dispute over pricing.
Baked beans, ketchup and tomato soup are among the cupboard staples missing from shelves in some Tesco stores.
Kraft Heinz, which owns the brand, said its production costs were rising but it was working with Tesco to resolve the situation quickly.
But Tesco said: "We will not pass on unjustifiable price increases to our customers."
"We're sorry that this means some products aren't available right now," a Tesco spokesperson said. "We hope to have this issue resolved soon."
In recent months food manufacturers have reported rising costs, including for energy and commodities, with some warning they would need to raise the prices they charge to retailers. However supermarkets such as Tesco are striving to keep prices low for customers facing a cost-of-living squeeze and shopping more carefully.
A Kraft Heinz spokesman said the pricing issue was down to "today's challenging economic environment - with commodity and production costs rising".
He said the firm always looked at how it could "provide value through price, size and packs.... at a price point that works within their budgets".
"We are confident of a positive resolution with Tesco," he added.
Meanwhile, a Tesco spokesperson said the supermarket giant was "laser-focused on keeping the cost of the weekly shop in check".
"With household budgets under increasing pressure, now more than ever we have a responsibility to ensure customers get the best possible value, and we will not pass on unjustifiable price increases to our customers."
Ged Futter, a former Asda executive and now director of consultancy The Retail Mind, said rows over prices were more common than customers realised.
"Heinz are saying if you're not prepared to take it [at that price] we will stop supply," he said.
"More manufacturers are saying that to retailers than ever before. I have examples of supplies being stopped in every single retailer except Aldi."
He said the reason the Heinz Tesco row had become obvious was because the products were so popular that shelves would have been empty within days of the supply being cut off.
Manufacturers were absorbing unprecedented food price rises from retailers for the fourth or fifth time in the last 18 months, he said.
"There will be a resolution as Tesco can't afford not to have Heinz products and Heinz can't afford to not be in Tesco. It's just a matter of what that resolution looks like," he said.
Retail analyst Steve Dresser, chief executive of Grocery Insight, said the issue was reminiscent of the Marmite saga of 2016.
Marmite, PG Tips tea and Pot Noodles were taken off the Tesco website after Unilever put prices up.
"Despite rising cost prices, Tesco are right to use their scale and size to resist unilateral price increases, given that these rises will have to be passed on to customers.
"Larger suppliers like Heinz are significantly sized businesses in their own right and one would hope they were doing their bit to limit the scale of cost price increases, instead of merely passing them on," he said.
Rising food prices have helped push inflation to a 40-year high and shoppers are already cutting back on the amount of food they buy, according to a survey for the Office for National Statistics.
Tesco said it had seen signs of customers altering their behaviour in response to higher food prices, including shopping less frequently. Asda told the BBC shoppers were asking cashiers to stop checking out food when the total reached £30, to limit their spend.