Farmers cut food production as costs soar
By Oliver Smith & Simon Jack
BBC News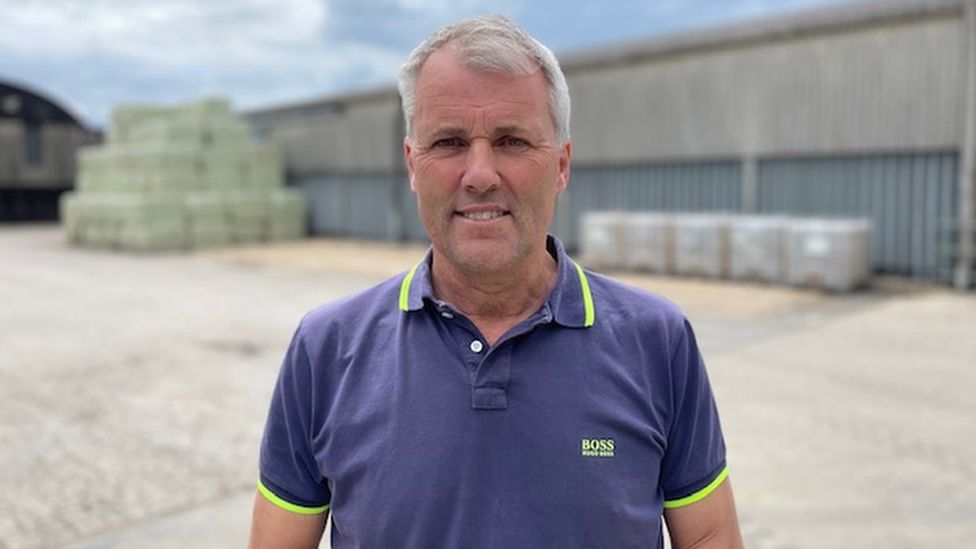 Farmers struggling with soaring costs are being forced to cut back on their food production, according to the National Farmers' Union (NFU).
It said some are at risk of going out of business. One farmer told the BBC the food system in the UK is "broken".
A third of arable farmers told the NFU they're cutting back on crops for food.
Many are switching from growing wheat for bread to wheat for animal feed, as it uses less fertiliser. The government said its schemes supported farmers.
Fuel, animal feed, fertiliser and energy have all seen unprecedented price rises in recent months, in part due to Russia's invasion of Ukraine, putting financial pressure on farmers who cannot always pass those costs on to supermarkets and other customers.
Fertiliser costs began to rise last autumn when the wholesale price of gas, which is needed to produce it, started to climb. The Ukraine conflict has made the situation worse, with sanctions hitting supplies from Russia, one of the world's biggest producers of some of the key ingredients in fertiliser.
"I've never known farming to be so volatile and so stressful," says Andrew Ward, who runs a 1,600-acre arable farm in Lincolnshire, growing wheat, barley and rapeseed.
"I get up in the morning and sometimes I wonder, 'why am I doing that?'" he says.
His energy bills have doubled, red diesel - used in his farm vehicles - is up around 200%, and he's seen a 400% increase in his fertiliser costs. He is considering using less fertiliser on his fields, which means a lower crop yield when it comes to the harvest.
"If the fertiliser is too expensive and it's not viable to apply the maximum amount, then the tonnes [of wheat] we'll get will be less, which means there'll be less food."
Andrew is clear about what needs to change to make that happen.
"Our food system is broken. It's been too cheap for too long. Our costs are rocketing and I don't think it's right we should have to subsidise everybody's household spend on food.
"We have to make a living, we have to reinvest in the business and in the countryside, and that's not happening," he adds.
The NFU surveyed 610 dairy farmers and 525 arable farmers.
The survey found that 7% of dairy farmers are considering stopping milk production by 2024, which the union estimates could lead to 840 producers leaving the sector.
Minette Batters, the president of the NFU, says farming has always been a volatile sector, but price rises mean the decisions farmers are making now "feel more like a gamble than ever before".
"[Rising costs are] already having an impact on the food that we are producing as a nation as well as leading to a crisis of confidence among Britain's farmers," she says.
"These survey results clearly set out what we have to lose if nothing is done."
Farming analysts the Andersons Centre track "agflation", which measures the rising costs faced by farmers.
Their latest data shows agflation stood at 25.3% in May, compared to 9% CPI inflation and 8.5% CPI food inflation.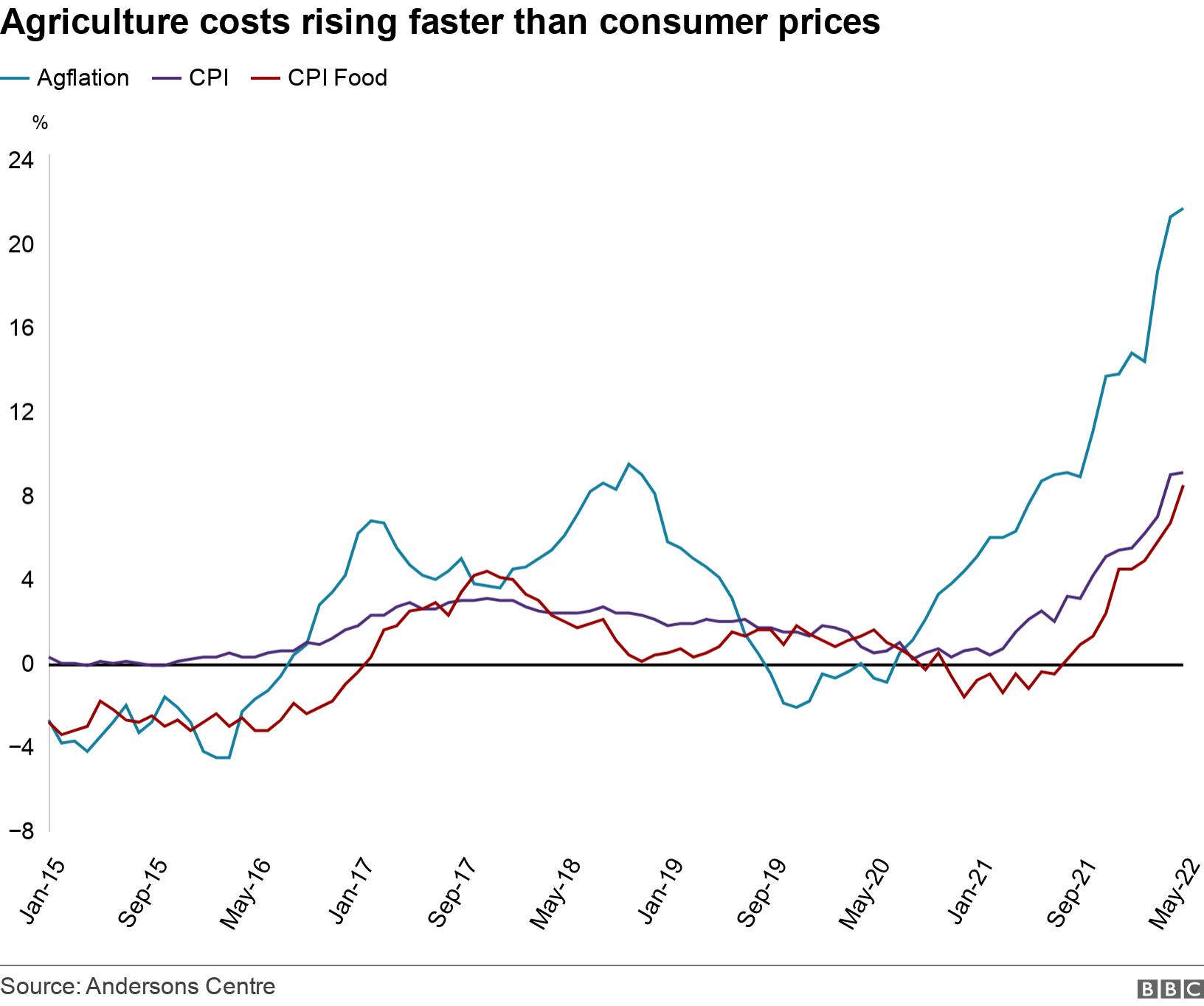 This month the government announced its food strategy for England, saying it was "backing farmers" with a pledge to increase domestic food supply. The strategy included a commitment to invest £270m in farming innovation to boost production and an ambition for 50% of public sector food spending to go on locally sourced produce.
The NFU has welcomed the move, but says the sector needs further investment and commitment from the government.
Pig meat shortage 'coming quickly'
Pig farmers are also scaling back their production plans with the sector at crisis point.
Recent data from farming software provider Agrovision shows that the number of weeners - young pigs - has dropped by 23%. Many farmers are reducing their herds, or getting out of pig farming altogether.
"We're losing £30-£40 on every pig we produce," says Tom Allen, a farmer from Oxfordshire, who has seen the cost of animal feed double over the last year. "It's totally uneconomic."
He has reduced his pig herd by a third, and has had to make a number of people redundant.
"I've seen friends going out of business left, right and centre, with no way of knowing how they're going to generate an income for their families. It's terrifying," he says.
He thinks it won't be long before consumers notice less choice in supermarkets.
"What this means is there will be a shortage of pig meat coming quite quickly.
"Prices will have to rise to cover our costs, let alone make a return on our investments. If it doesn't, there won't be any pig meat on the shelves at all, because the industry will just implode."
Tom says financial pressures are taking a toll on farmers' mental health, something that Amy Thomas from the Lincolnshire Rural Support Network has seen first-hand.
The charity assists farmers and their families across the county. Last year, they helped 186 families in total. Since April this year, they've already assisted 120 farming families and expect that number to keep growing.
"We're seeing a lot of business-related cases coming through. There's a lot of pressure on people at the moment. They're not quite sure where to turn. A lot of stress cases, and mental health cases," says Ms Thomas.
"People have come to us with problems around increased costs and problems securing labour, so it's a perfect storm."
She says farming is like few other industries, in that you cannot just quit when the going gets tough.
"Farms are workplaces and homes, and have often been in the family for generations. Nobody wants to be the person to say enough is enough, we're finished."
A spokesperson from the Department for Environment, Food & Rural Affairs (Defra) said it had taken steps to support farmers with the availability of fertiliser.
"We have announced that we will bring forward 50% of the Basic Payment Scheme payment to July to help ease cash flow pressures," they said.
The government has also announced an additional 10,000 visas for the seasonal workers route, they added.