Call to extend electrical safety checks to social housing
By Kevin Peachey
Personal finance correspondent, BBC News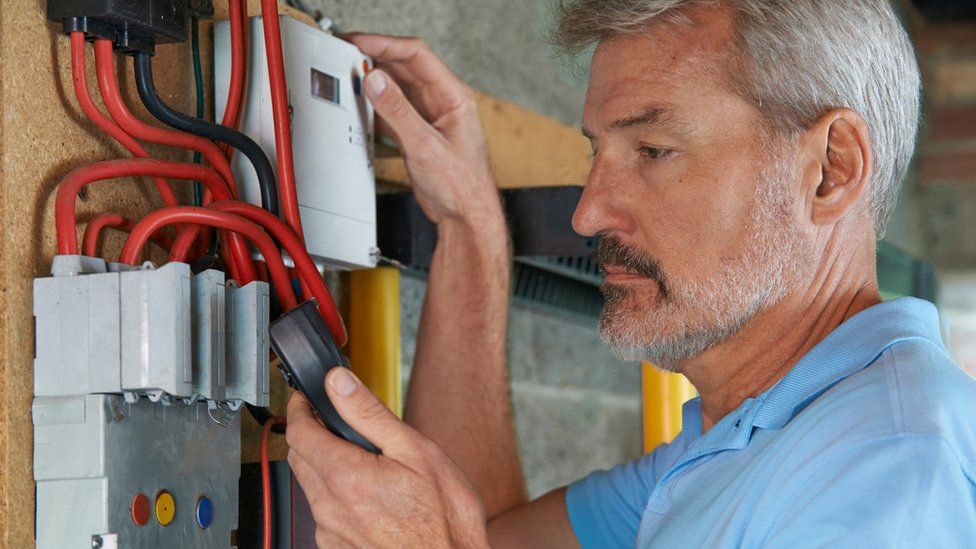 Electrical safety checks should be mandatory for social housing after thousands of hazards were uncovered in private rentals, a charity has said.
Five-year mandatory checks were introduced in the private rented sector in England in June 2020, mirroring an existing scheme in Scotland.
The charity, Electrical Safety First, said the checks had found 7,000 faults including exposed live wiring.
It wants the law to now cover England's four million social housing properties.
The government said it was consulting on the issue.
Mandatory regular safety checks in homes owned by private landlords in England began for properties with new tenants in June 2020, followed by existing tenancies in April 2021.
Electrical Safety First submitted Freedom of Information requests about the results of the first rounds of tests to councils in October last year.
While it said the majority of landlords maintained their properties in a good condition, the checks had uncovered "shocking and dangerous" electrical conditions in some homes, it said.
They included cracked and damaged plug sockets, leaving tenants facing potential electric shocks, as well as exposed wiring from light fittings, all putting properties at risk from fire.
In total, it said 7,000 electrical faults were identified across more than a quarter of local authority areas since laws were introduced.
Neill Jenkins, an approved electrician from Jenkins Electrical said: "I find faults during most of the checks I conduct. Some properties I see have hidden dangers which pose a real risk.
"What I am seeing in these premises is generally deteriorated wiring and accessories after years of stress on a property that has been left unchecked. Landlords are generally very pleased to have the problem fixed. It keeps their tenants and the property safe."
Electrical Safety First said similar faults would also be found in social housing, and it urged the government to widen to law to include these four million homes.
Some social housing landlords already conduct electrical safety checks at intervals between five and 10 years, but no timeframe is set by law in England.
Lesley Rudd, chief executive of Electrical Safety First, said: "Our findings demonstrate how essential electrical safety checks are in identifying faults and preventing harm. In their first year alone, they have protected thousands of tenants from faults that could have caused serious injury and fire, and helped maintain the condition and safety of landlords properties.
"The millions of social renters in England deserve equal protection and it is time for five-yearly electrical safety checks to be extended to this housing sector."
A spokeswoman for the Department for Levelling Up, Housing and Communities, said: "Everyone has the right to a safe and secure home. We are currently consulting on the best ways to protect social residents from the dangers of poor electrical safety, including mandatory testing every five years, and our Social Housing Regulation Bill contains a clause that will enable us to legislate for this."
Checks are already in place for the private rented sector and social housing in Scotland. Checks will be legally necessary for both sectors in Wales from December.