Rail strikes will drive passengers away, Grant Shapps says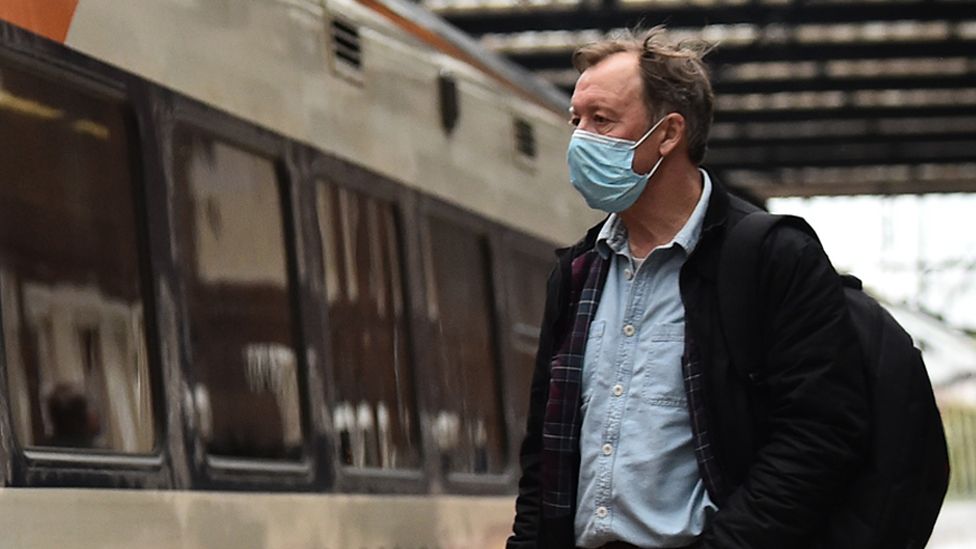 Train strikes will drive passengers away and threaten rather than protect rail workers' jobs, Grant Shapps says.
The transport secretary urged unions to call off next week's strikes, with thousands of workers set to walk out on 21, 23 and 25 June.
The RMT union announced the strike action last week after talks over pay and redundancies fell through.
But season ticket holders "will be able to claim full compensation on strike days", Mr Shapps said in a speech at a train depot in north London.
Network Rail said if strikes go ahead about half of all rail lines will be closed, with only a fifth of services running across Britain.
The services that run will start and finish earlier, from 07:30 to 18:30, and some places will have no trains at all.
The timing of these rail strikes were "designed to inflict damage at the worst possible time", Mr Shapps said.
He said the walkouts would cause "misery" for groups including workers, those heading to Glastonbury festival, and students sitting the 17 public exams over the strike period.
Mr Shapps said commuters, who three years ago may have had no alternative but to take the train, now have other options like Zoom meetings.
"Wave them goodbye, and it will endanger the jobs of thousands of rail workers," he said.
He added that unions were "alienating" passengers and freight customers with "long and damaging strikes".
The strikes were not about a pay freeze as union bosses claimed, he said, because if the railways can make more money through reform, wages will go up.
Addressing rail workers, Mr Shapps said: "Your union bosses have driven you to the verge of a national strike under false pretences. And rather than protect your jobs, they are actually threatening your jobs."
The transport secretary was asked repeatedly why he could not meet with the unions and Network Rail, to try and avert next week's strikes.
In response, Mr Shapps said "I can't settle this", adding that "it is for employers to negotiate pay" and "they set the terms and contracts".
Mick Lynch, RMT general secretary, accused Mr Shapps of making "disgraceful" threats to railway workers' livelihoods and their right to strike.
He called on the transport secretary to meet with unions to help reach a negotiated settlement.
How will you be affected by the rail strikes?
Earlier, Tim Shoveller, Network Rail lead on the talks with the RMT, said he did not think the government could help with the situation.
He told BBC Radio 4's Today programme: "The biggest thing we need to do with unions is work out between ourselves how we make the railway more efficient."
He said this included "how we use our people more wisely, so we run the railways even more safely than we do now, making better jobs, then providing that opportunity to reduce costs - that's the only solution."
More than 40,000 RMT union members from Network Rail and 13 train firms plan to walk out on three days next week.
On the first day of the planned strike on 21 June, London Underground RMT workers plan to walk out in a separate dispute over pensions and job losses.
The RMT union has claimed Network Rail plans to cut up to 2,500 jobs as part of a £2bn reduction in spending, with the proposed job cuts including workers who maintain tracks, signals and overhead lines.
It also said train operators had been subject to pay freezes and changes to their terms and conditions.
The rail industry is under pressure to save money due to the financial impact of the coronavirus pandemic and Network Rail has said it wants to modernise working practices.
It estimated between 1,500 and 2,000 fewer staff would be needed, but insists this could be achieved through voluntary means.