Rail strike: When is it and which trains are running?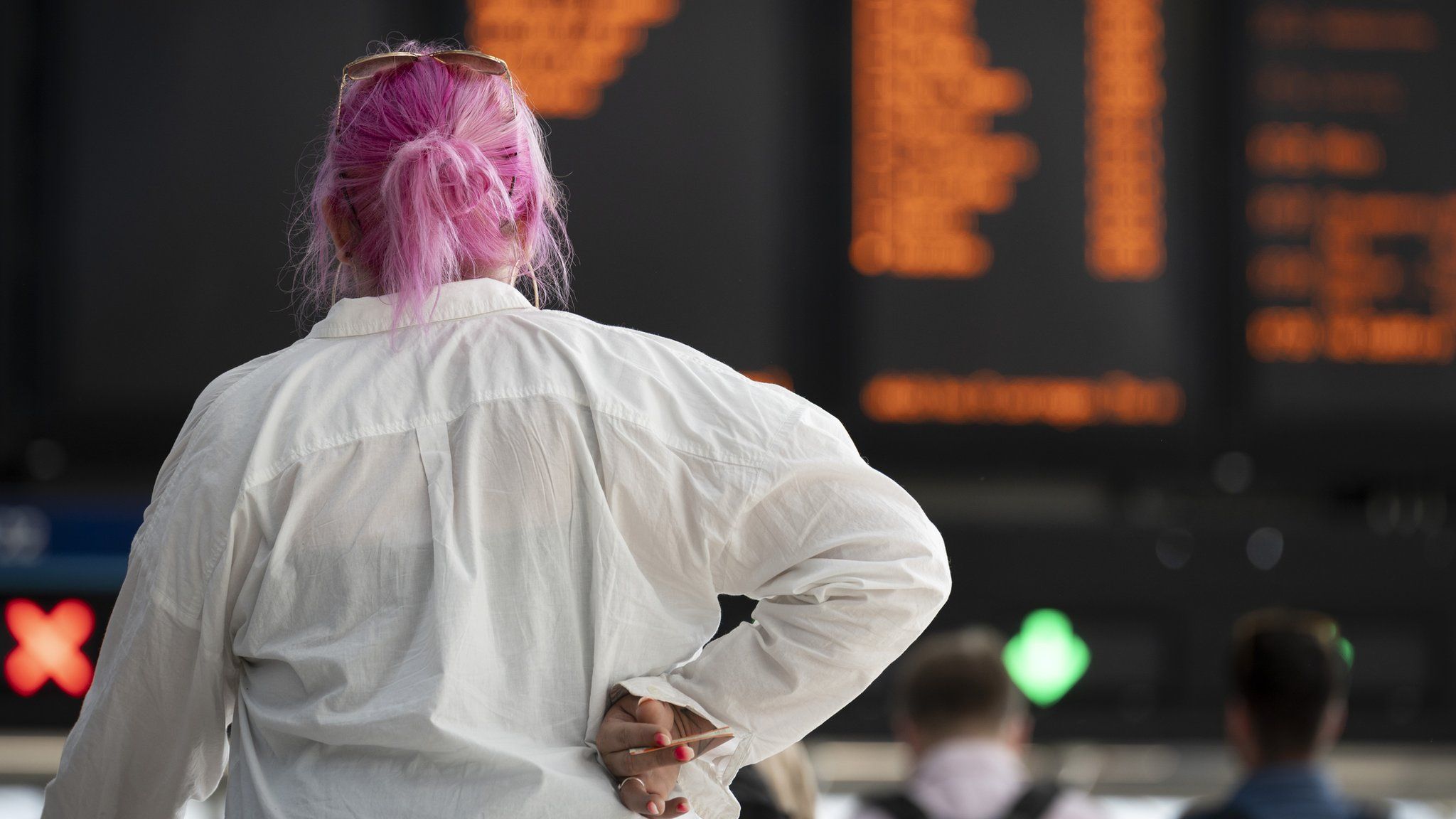 Rail passengers are facing further severe disruption.
A greatly reduced train service is in place because tens of thousands of railway workers are striking over pay and job cuts.
When are the rail strikes and will there be more?
Railway workers are holding the third and final day of planned strikes on Saturday.
The strike has been called by the National Union of Rail, Maritime and Transport Workers (RMT).
It has not announced any further strike dates, but says industrial action will continue for "as long as it needs to".
How many trains are running?
On Saturday, it is expected that 20% of services will be running between between 06:30 and 18:30.
Why are so many lines affected?
Staff at most companies which operate trains are striking - but even where they're not, services are being disrupted.
This is because staff at Network Rail - which maintains the railways throughout Britain - have joined the action.
Why is the strike happening?
The RMT, which has tens of thousands of members, including everyone from guards and signallers to catering staff and cleaners, called the strikes over job cuts, pay and conditions.
Network Rail said it would offer a pay rise above 3%, but only if the union agreed to modernise working practices.
The RMT has also accused the government of preventing rail companies from freely negotiating on pay. Ministers say the dispute should be resolved between the unions and the employers.
The RMT says another issue is that Network Rail plans to cut 2,500 maintenance jobs, as it tries to save £2bn over the next two years. The union says the jobs are safety critical.
Network Rail says there would be no more than 2,000 job losses - and that all can be voluntary. It says it would not consider any changes that would make the railways less safe and that modernisation is needed.
The government has made various allegations about working practices on the railways that need changing, such as Sunday not being treated as a normal working day and staff refusing to be multi-skilled.
The RMT union has rejected these and responded: "It is simply false that the union is opposed to modernisation and change on the railways. If that was the case, we would still have tens of thousands of workers transporting coal for steam trains around the country."
The government says £16bn of taxpayers' money was used to support the railways during the Covid pandemic. However, with passenger numbers still down by one fifth, it says changes are needed.
Will I be able to get a refund?
National Rail has published guidance covering different scenarios and ticket types.
If your train is cancelled, delayed or rescheduled, National Rail says you are entitled to a refund from the retailer you bought the ticket from.
If you have a ticket for one of the strike days, you can use it the day before, or until Tuesday of the following week.
Season ticket-holders who choose not to travel on strike days can claim compensation for those days.
People are being advised to check with operators about switching to other routes to avoid disruption.