Business confidence is falling, says Natwest boss
By Douglas Fraser
Business and economy editor, Scotland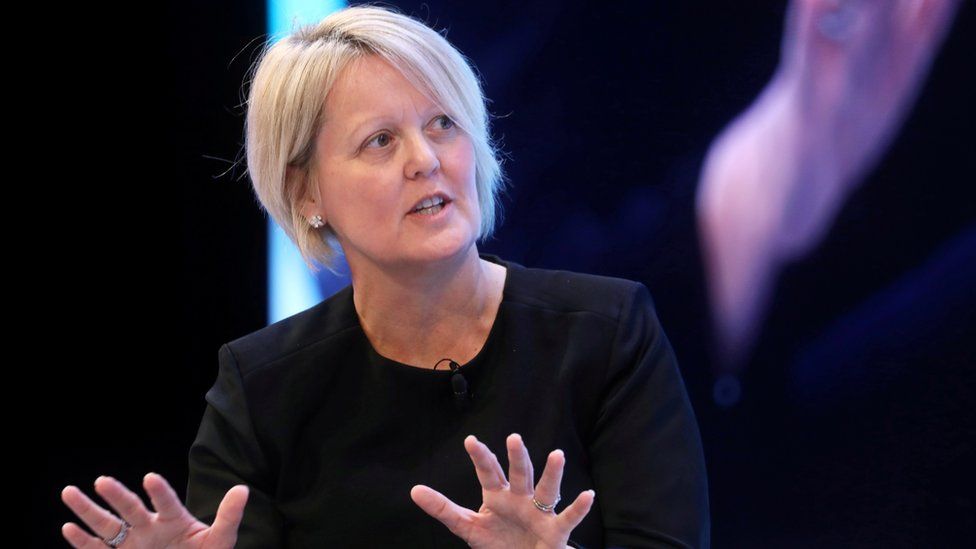 The cost of living crisis presents challenges because so many firms and customers have no experience of high inflation and rising lending rates, NatWest boss Alison Rose has said.
Firms on the bank's books have falling confidence, she told BBC Scotland.
Ms Rose blamed this on problems with supply chains, energy bills and skills shortages.
Russia's invasion of Ukraine has also "exacerbated" people's worries, she added.
Three years after she took over the top role from Ross McEwan, and renamed Royal Bank of Scotland, or RBS, with the Natwest brand, Ms Rose said that the impact of inflation, higher interest rates and the invasion of Ukraine has caused a "concern" for business about "confidence to grow".
"We are still seeing positive tailwinds from recovery from the pandemic as companies scale back up again, but definitely business confidence is being affected," she said.
She added business customers of Natwest are not pulling back on investment, though there is cautiousness about long-term projects.
"We're seeing people increasing investment in working capital as they re-engineer their supply chains," Ms Rose said.
"One of the challenges we all need to recognise is that, for a lot of business owners and lot of families, an environment of inflation and rising interest rates is not something they've had to deal with for a long period of time."
Interest rates were cut sharply during the financial crisis in 2008-09, when RBS had the biggest balance sheet of any bank in the world, ran into severe difficulties with its exposure to bad lending, and had to be bailed out with a £45bn capital injection by the UK government.
It is only this month that the Bank of England base interest rate has returned to 1%, and the current Consumer Price Index, at 9%, is at its highest level for 40 years and continuing to rise.
So it is a falling minority of people in Britain who remember the problems of living with high inflation, and few in business could remember both rising at the same time.
Ms Rose, who joined Natwest 30 years ago, said the bank has relationship managers who can offer experience of getting through turmoil in business conditions.
"People are really anxious and worried about all those trends, so we encourage them to come and talk to us, because there are things we can do and we can help with," she explained.
The chief executive said the bank is not seeing signs of mortgage arrears rising or bad debt more widely.
"As we came out of the pandemic, a lot of businesses built a lot of liquidity on their balance sheet. One of the things we've focussed on is helping people save and put money away for a rainy day.
"We're not seeing any of those early warning indicators around bad debts or insolvencies or even calls coming into our financial health and support teams.
"But we're very acutely aware that people are worried about those challenges. We encourage customers to get in touch if they are worried."
The finance sector has seen pay rise ahead of inflation, unlike almost every other sector. RBS bonuses this year were up 44%.
While others face falling real incomes, the Natwest boss defended bank pay as fair and competitive with other banks, while the bonus pool is declining.
"We recognise that we get well paid in the finance sector, but the majority of our staff don't get bonuses. The majority are on fixed pay," she said.
"We've always said we would pay fairly and competitively. Our staff are paid above minimum wage. Also it's important to bring the right talent into our organisation so that we can support our customers."
On very low savings rates for customers of Natwest and Royal Bank of Scotland and its Ulster Bank brand - only 0.15% on the premium saver account and 0.45% on ISA cash - the chief executive responded: "We've got to balance all those elements. We've always said we will pass on rates, to keep that in balance to make sure we're doing that responsibly and fairly."
'People were traumatised'
Also in the interview, looking back at her time in the investment bank, while its operations were close to bringing Royal Bank of Scotland crashing down in 2008, Ms Rose recalled it as a "really difficult time".
"I've had my whole career here, and I remember the financial crisis clearly, and the impact we can have on people's lives when things go wrong. That's driven a huge part of my commitment to rebuilding part of the bank's reputation," she said.
"I remember walking the floors, talking to more junior people, trying to provide reassurance. What I saw was a lot of my colleagues - good people, doing good work, traumatised by what happened, (feeling) it wasn't the bank they recognised. That wasn't what they did."
She reflects that the last two chief executives - Mr McEwan and Stephen Hester - were in a fight for survival, whereas her job is about focussing on the future and growth, about building relationships more than being a bank purely for transactions.
And on the move away from its Scottish branding, she said Natwest remains proud of its Scottish heritage, banking one in three Scottish businesses, one in five households and one in seven Scottish mortgages, while being a major employer north of the border.