Brits set to spend millions on Platinum Jubilee merchandise
By Sarah Rogers
Business reporter, BBC News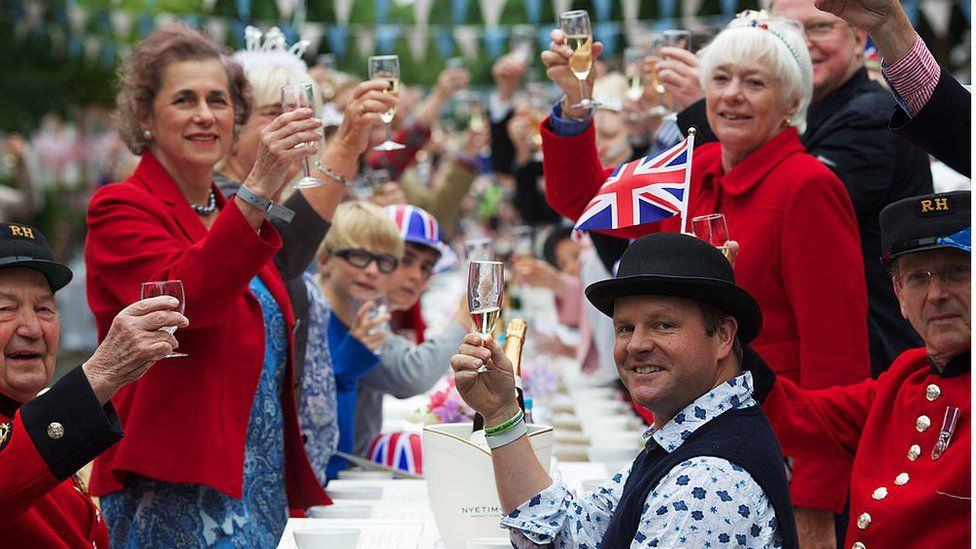 From street parties to collectables, the nation is set spend millions on royal memorabilia to celebrate the Queen's Platinum Jubilee.
Her Majesty's 70-year reign is being marked with a four day weekend, and there is a plethora of merchandise on offer.
For British businesses the jubilee is providing a much needed boost.
At fine china factory Halycon Days in Stoke-on-Trent, extra staff have been brought in to fulfil exclusive orders.
The company holds three warrants to supply royal households.
It is among just 14 firms globally to hold all three Royal Warrants, by appointment to the Queen, the Duke of Edinburgh and the Prince of Wales.
Much of the firm's commemorative merchandise will be reserved for serious collectors.
Plates gilded with oils mixed with 22 carat gold cost £150. The cheapest item, a mug, comes in at £29. The most expensive collectable, a music box, costs £1950.
But despite the prices, the firm says that some items are selling out before they even hit the shelves.
"Demand has been incredible," says the Halycon Days chief executive Pamela Harper. "We launched two collections which sold out immediately."
More importantly, this is a chance to help keep a fading art alive, adds Pamela.
"Part of our interest in this is making sure these skills that we have here in the UK do not die," she says.
The collection was taken to Windsor Castle to see if it would meet the Queen's approval. "I've never been more nervous in my life," says Pamela.
When asked if it were likely the Queen may take her tea in a cup made by the company, Pamela said, "I would very much hope that on occasion she would be using something made in England, from Stoke-on-Trent."
The UK could spend about £408m on the Platinum Jubilee, with £281.5m going on souvenirs memorabilia and gifts, according to the Centre for Retail Research.
For those planning street parties - or in fact a party of any kind - flags and bunting are usually a must.
At Flying Colours Flagmakers, a family business in Knaresborough, near Harrogate, they simply can't keep up with orders.
Jubilee merchandise is currently contributing to 40% of the business.
The company makes flags for the royal household as well as for TV shows including The Crown and Peaky Blinders.
Owner Andy Ormrod says: "We can't keep it together at the moment. There's so many orders coming in from the internet, people are ringing, there's everything coming in."
About 85 kilometres of bunting tape has been whizzed through the firm's machines, with staff working around the clock.
But once the party is over is it a case of red, white and binned?
Social historian Robert Opie, who is showcasing 200 years of royal souvenirs at the Museum of Brands in London, says the exhibition is all about looking back at those exclusive buys years on.
"It's a consumer world we live in, a throw away history we seem to chuck out in our bins, but the history is actually among those very items," he says.