Energy bills to be cut by hundreds as part of support package worth billions
By Simon Jack & Michael Race
BBC Business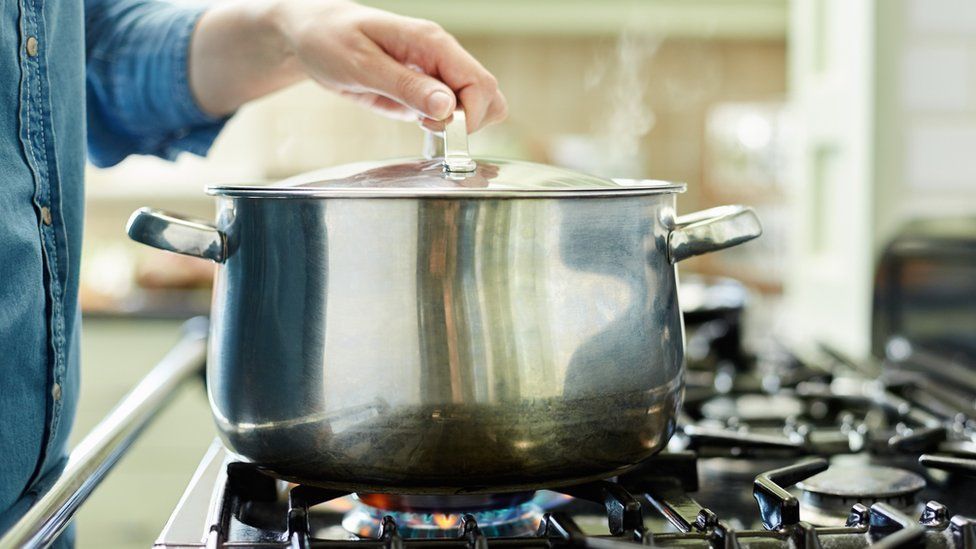 Households in England, Scotland and Wales are set to have hundreds of pounds knocked off energy bills as part of a package worth billions to help people cope with soaring prices.
Instead, the BBC understands that sum will be increased and possibly doubled, and will not need to be paid back.
Additional help for those on the lowest incomes is also expected.
The support, to be announced by Chancellor Rishi Sunak later, is expected to be largely funded by a windfall tax on oil and gas firms that could raise £7bn.
Earlier this week the UK's energy regulator Ofgem said the typical household energy bill was set to rise by £800 in October, bringing the typical household bill to £2,800 a year. Bills had already risen on average by £700 in April.
Ofgem warned it meant 12 million households could be placed into fuel poverty.
Most people living in homes in England in council tax bands A-D have already received a £150 rebate on their bills.
Dame Clare Moriarty, chief executive of Citizens Advice, said the "bulk" of government support needed to go to those on the lowest incomes "who are suffering the most severe consequences of this cost of living crisis".
She told the BBC the charity was now helping more than 750 people every day with food bank vouchers.
"We have got people in this country who cannot put food on the table, they cannot keep their lights on and the heating on," she said.
Paul Johnson, director of the Institute for Fiscal Studies, said offering a universal payment would mean a lot of the money would go to households who "don't desperately need it".
He also warned putting billions of pounds into the economy at a time when prices were rising quickly "could stoke additional demand and make inflation much more permanent".
Opposition parties have repeatedly called for a windfall tax on energy companies that have made bumper profits, in large part because of Russia's invasion of Ukraine.
But until now the government had resisted calls to impose the one-off levy, with some senior members of the cabinet arguing it could deter energy firms from investing in the UK.
However, it is understood the prime minister has now sided with Mr Sunak, who had been pushing for the tax.
But proposals to tax income from other electricity producers, such as some older windfarms and nuclear plants which have also seen windfall gains, have been shelved.
And companies that increase investment in the UK could earn a discount on the additional tax.
The Treasury said the government understood "that people are struggling with rising prices" and that Mr Sunak had been "clear that as the situation evolves, so will our response".
David Thompson is one of those struggling to pay the bills. The 46-year-old has five children and four grandchildren and gets Universal Credit - which he calls "Universal Crisis".
"It is getting worse and worse, but you have just got to make do with what you have got. It is a struggle. You are worrying before you get paid, then when you get paid you worry how far it is going to go," he said,
"It is supposed to last a month, but you are skint after a week or two."
As typical household energy bills are rising, and are set to go up again in October, he said that any extra support given by the government was never going to match the rate of price rises at the moment.
"This is one of the worst times. I remember when the shipyards went down, and the miners' strikes. People are more well-off now than the 80s and the 90s, but things are a lot more expensive," he said.
Energy firms have made huge profits following Russia's invasion of Ukraine.
Shell reported a record £7bn profit in the first three months of this year while BP made £5bn, the highest for 10 years.
But Offshore Energies UK, which represents the offshore oil and gas industry, said a windfall tax on energy firms would see higher prices and do long-term damage to the oil and gas industry.
Deirdre Michie, chief executive of the body, said: "This is an industry that thinks and plans long-term, so sudden new costs, like this proposed tax, will disrupt planning and investment and, above all, undermine investor confidence."
Higher energy bills are pushing prices to rise at the fastest rate for 40 years, with fuel and food costs also biting into household budgets.
Ofgem chief executive Jonathan Brearley said conditions in the global gas market had worsened after Russia's invasion and warned that the price cap could rise beyond £2,800 if Moscow decided to disrupt supplies.
Europe gets about 40% of its natural gas from Russia, so sudden supply cuts could have a huge economic impact.
While the UK would not be directly impacted by supply disruption - as it imports less than 5% of its gas from Russia - it would be affected by prices rising on global markets as demand in Europe increased.