Marks & Spencer shifts from town centres as online sales grow
By Becky Morton
BBC News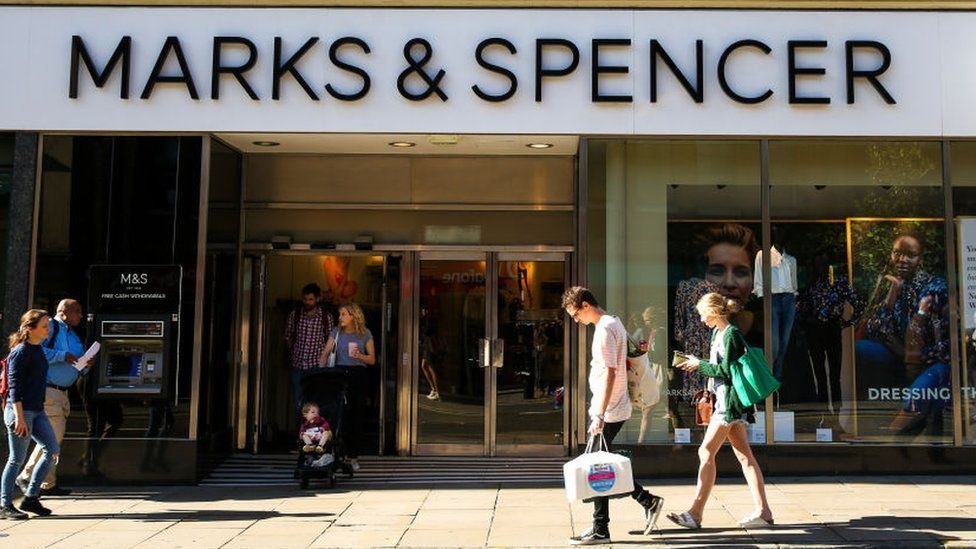 Marks & Spencer says it is moving away from town centres, as it saw online sales for clothes and homeware jump.
The chain said the shift to online shopping during the pandemic had "increased the imperative" to reduce its clothing and home trading space.
Many town centres had "lost impetus" due to "failed local authority or government policy", M&S said.
It said it was now relocating some shops from older, multi-floor buildings with poor access and parking.
"As a result, a high proportion, but not all, of our relocations are to the edge of town," the retail giant said.
M&S said it was planning around 15 new full-line stores and 40 new food stores over the next three years.
The company said it was investing in a number of stores which had been relocated to the edges of towns, including to former Debenhams sites in Leamington Spa and Thurrock.
It is part of a long-term plan to overhaul its large stores. The shake-up will eventually see the closure of some 110 main stores as it focuses on fewer but better locations.
'Moving with the customer'
A total of 68 of these main-line stores have already shut and the retailer confirmed another 32 will go over the next three years.
Boss Steve Rowe told reporters M&S was "moving with the customer, where the customer is working and shopping".
He said the chain had "some fabulous city and town centre stores" but it had to ensure its portfolio was "balanced" and there would be more of a bias towards food in the future.
Announcing its results for last year, M&S, which is turning its business around after years of decline, said it had seen strong performance in its clothing and home operation.
This was driven by a 55.6% surge in online sales. However, in-store sales fell by 11.2%.
Meanwhile, its food sales were up by 10.1%.
Overall, the company reported pre-tax profits of £392m for the year to 2 April - up from a loss of £209m the previous year.
However, M&S said it expected sales growth to slow due to rising costs and increased pressure on customer budgets.
The company said it was facing increased food costs, driven by global supply issues and labour shortages, while factory, transport and freight costs, as well as continued supply issues in China, were putting pressure on its clothing and home business.
Julie Palmer, a retail expert at Begbies Traynor, said the typical M&S customer tended to be wealthier and less hard hit by rising costs "but they could still choose to economise" .
"How long cash-strapped shoppers will feel comfortable splashing out on M&S's upmarket foods remains to be seen," she added.
Also on Wednesday, online grocer Ocado warned that its joint venture with M&S will see earnings and sales weighed down by growing pressure on customers' spending.
Ocado Retail, an online retail business which is owned 50-50 by the two companies, said consumers are ordering "one or two fewer items per shop" against the backdrop of a growing cost of living crisis.
Chief executive Steve Rowe is handing over the reins today after 40 years at M&S, starting as a Saturday boy in Croydon.
The business is certainly in better shape now than when he started the top job in 2016.
Reviving the fortunes of this household name is still a work in progress, though.
Although M&S has managed to finally arrest the decline in clothing and home sales, fashion sales in its shops are still 25% below where they were four years ago.
M&S wants fewer and better big stores as we shop more online and has already been making some big changes.
Today it said it was shifting away from town centre shops to more modern edge-of-town sites, taking a swipe at what it calls "failed local authority and government policy".
This new focus will likely send a shudder through the High Streets set to be affected.
The new leadership team at M&S will also have to steer the business through the cost of living crisis with soaring inflation and consumers tightening their belts.
The company also announced it would pull out of Russia altogether, resulting in a £31m cost.
M&S, which was criticised for not leaving the country at the start of the war in Ukraine, stopped shipments to Russia in March but previously said complex franchise deals prevented it from withdrawing completely.
The retailer opened its first store in Russia in 2005. Its Russian arm is run by Turkish company FiBA, which operates 48 shops under the M&S banner in the country with 1,200 employees.
Chief executive Mr Rowe is handing over leadership of M&S to Stuart Machin and Katie Bickerstaffe after running the company's turnaround for the past six years.
The cost-cutting programme saw the closure of a number of M&S's clothing and homeware shops, with others converted into food stores, after disappointing fashion sales.