Energy firms warn against extending windfall tax to renewables
By Simon Jack
Business editor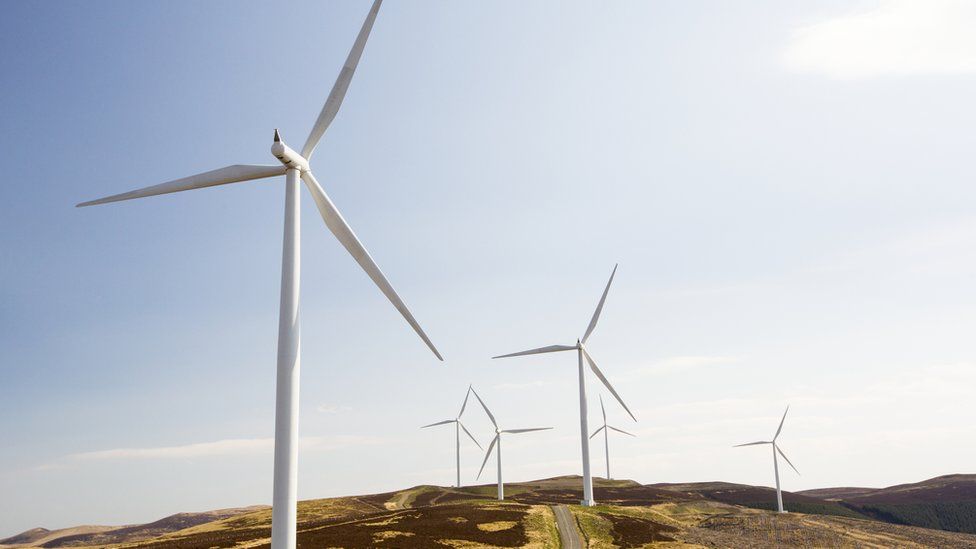 Energy firms are warning that an attempt to extend a windfall tax to renewable energy would threaten the government's entire energy strategy.
Industry sources told the BBC it could destroy investor confidence ahead of key auctions for licences to develop new wind and solar projects.
Shares in firms that could be affected fell sharply on Tuesday, with Centrica down 11% and SSE 9% lower.
An announcement on windfall taxes could come as soon as Thursday.
However, the Treasury said no decisions had yet been made.
Oil and gas prices have soared over the past year, partly because demand has increased as the world emerges from the Covid pandemic and because of supply concerns due to Russia's invasion of Ukraine.
Sources close to the Treasury's thinking on how to impose a windfall tax point out that renewable and nuclear energy generators have also enjoyed windfall profits as electricity prices have also surged and they have enjoyed extra profits as they are not dependent on expensive gas to produce power.
"Power producers whose costs haven't risen with the price of gas have enjoyed a windfall as well. It is logical and credible for them to be taxed on their excess profits as well," said one source.
Energy experts also point out that there is no reason future investment in renewables should suffer, as they would be exempt from any windfall tax as projects are now auctioned with a fixed price for the power they ultimately produce and therefore it would be impossible for the companies to make excess profits if prices for electricity rise. Any windfall tax would be levied on older existing renewable income.
However, the boss of one of the UK's biggest investors in renewables said his profits from renewable energy generation were in the low hundreds of millions for a whole year, compared to the £7bn made by Shell and the £5bn made by BP in the first three months of this year alone.
"Going after renewables is total and utter nonsense," he said.
The government's energy strategy, which was announced last month, aimed to boost UK energy independence and tackle rising prices.
Under the plans, up to eight more nuclear reactors could be approved on existing sites, and the strategy also aims to increase wind, hydrogen and solar production.