Klarna to cut 10% of staff as it warns of recession
By Michael Race
Business reporter, BBC News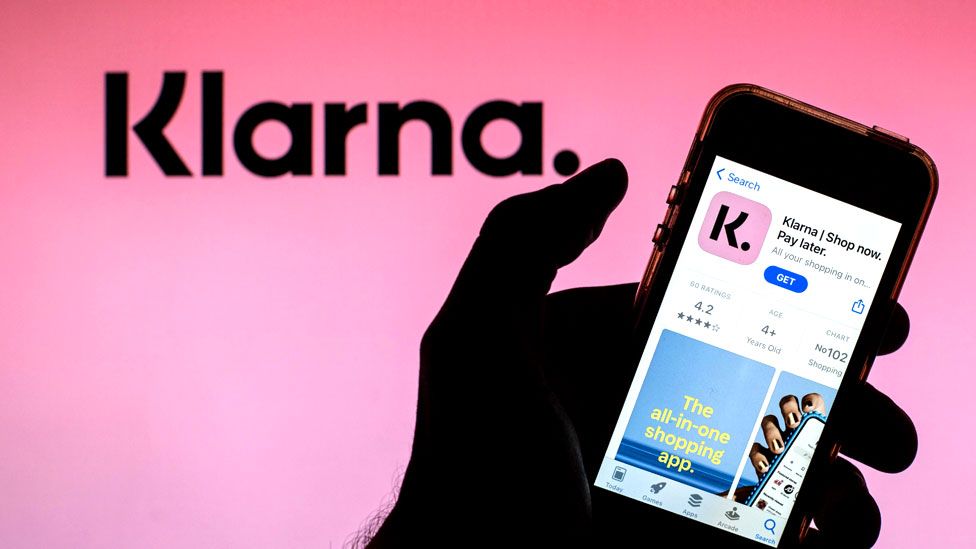 Buy now pay later firm Klarna has announced plans to cut around 700 staff as it warned of a "likely recession".
The Swedish firm blamed a combination of rising prices, a change in consumer sentiment and the war in Ukraine for the move.
"What we are seeing now in the world is not temporary or short-lived, and hence we need to act," said chief executive Sebastian Siemiatkowski.
The cuts equate to around 10% of Klarna's 7,000-strong workforce.
"When we set our business plans for 2022 in the autumn of last year, it was a very different world than the one we are in today," said Mr Siemiatkowski.
"Since then, we have seen a tragic and unnecessary war in Ukraine unfold, a shift in consumer sentiment, a steep increase in inflation, a highly volatile stock market and a likely recession."
In a blog, Mr Siemiatkowski advised staff - who the company refers to "Klarnauts" - to "take care of yourselves and each other".
Klarna is one of many tech companies warning that the months ahead will be difficult and taking steps to cut jobs or freeze hiring, as consumer spending weakens and ad sales slow.
Social media firm Snap shares tumbled roughly 40% on Tuesday after it cut sales and profit targets set a month ago.
The owner of the Snapchat messaging app said it would slow its rate of hiring after it said "macroeconomic environment has deteriorated further and faster than anticipated".
The update prompted a wider sell-off, with shares in Facebook-owner Meta down roughly 10%, Google-owner Alphabet falling 8% and smaller firms such as Pinterest down 26%.
In the UK, the central bank has warned the economy could fall into recession - defined as the economy getting smaller for two consecutive quarters - after official figures revealed the economy shrank in March.
Higher prices are beginning to bite into household budgets and people have started spending less and cutting down on car journeys due to high fuel costs.
Soaring energy bills and food prices are also having an impact and inflation - the rate at which prices rise - jumped to 9% in April and is expected to reach more than 10% by the end of the year.
Commenting on the cuts, Klarna said its affected employees in Europe will be offered "to leave Klarna with an associated compensation", but added outside of the continent, "the process for impacted employees will look different depending on where you work".
Klarna staff were asked to work from home this week "in consideration of the privacy of the people affected by these changes".
Mr Siemiatkowski said it had been "a very tumultuous year" so far.
It contrasts with 2021 when, thanks to the shift in consumer spending to online during Covid restrictions, Klarna saw the value of the company soar to $46bn when it raised millions of dollars from investors.
Since then, however, The Wall Street Journal has reported it is seeking a new round of investment and its valuation could sink by as much as $16bn to $30bn. Klarna dismissed the report as "pure speculation".
Buy-now-pay-later providers should have a pretty good insight of consumer sentiment. After all, it is a product that has been used by 17 million people in the UK, including 30% of those aged in their 20s.
No doubt Klarna has decided that those customers are likely to tighten their belts, spending less on fashion and the like as food and fuel take a bigger and bigger chunk out of their disposable incomes.
But there are likely to be wider factors at play here too.
Firstly, this kind of credit is facing greater scrutiny from regulators. Will shoppers think twice about clicking the Klarna box if they know that, in doing so, other potential lenders will be aware of how they are funding their purchases or they have to undergo affordability checks?
Secondly, Klarna has expanded fast, but so have its losses, and those in charge need to chart a sustainable course for the business.
Over its last financial year, Klarna's operating losses swelled to 6.58bn Swedish krona (£540m) from 1.62bn Swedish krona.
In its annual report, the company said losses were growing but that was "entirely explained by Klarna's growth, expansion to new markets and massive inflow of new customers".
Danni Hewson, financial analyst for AJ Bell, said Klarna's job cuts "might be the sensible option even if it takes a great big chunk out of the company's valuation".
"Markets are adjusting, those sky-high market caps that some growth businesses have attained over the last couple of years are coming under considerable scrutiny and many investors are deciding they don't hold up," said Ms Hewson.
"Klarna's caught between a rock and hard place as it needs to keep up its expansion momentum if it's to grow revenue and start generating profits.
"It could delay fundraising, wait for a more favourable moment, but there's no telling how long that wait would be particularly when recession is looming over the global economy."
Buy-now-pay-later is now a popular payment method across many stores, especially for people in their 20s.
However, one in 10 people using them already had debt arrears elsewhere, a review by the Financial Conduct Authority last year found.
It has led to criticism the schemes encourage shoppers to buy more than they can afford.
Earlier this month, Klarna announced it would start telling credit agencies who pays on time and who falls behind.
From June, banks and credit card firms will be able to see people's Klarna habits when making credit checks.