Fry-up breakfast costs 40p more than last year
By Daniel Thomas & Noor Nanji
BBC business reporters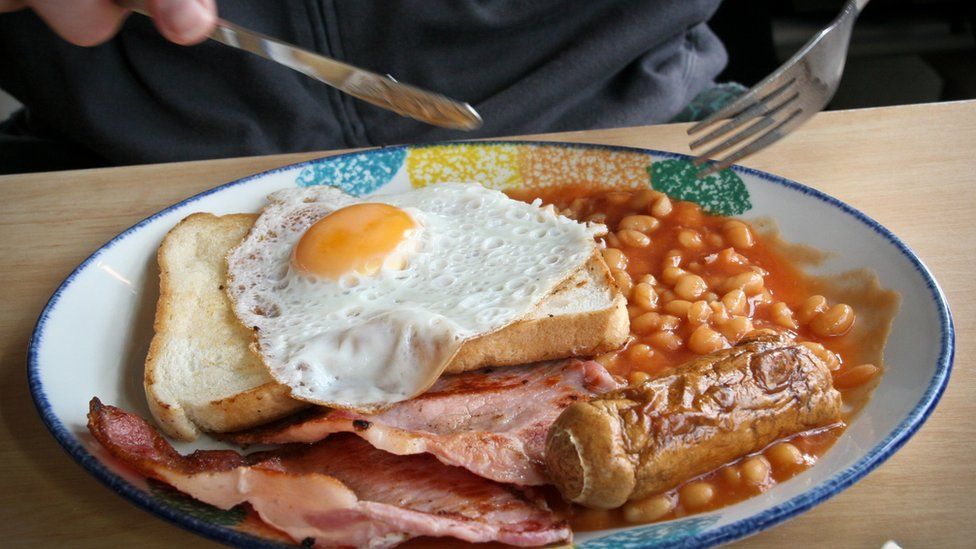 The cost of a family fry-up with toast, eggs, sausages, bacon and beans has risen 40p since last year, research suggests.
Picking up all the supplies for the fried breakfast now sets you back £6.83, says research company Kantar.
It found UK grocery prices were rising at their fastest rate since 2009.
Grocery prices were up 7% in the past four weeks compared with a year ago, leaving people increasingly worried about the cost of the weekly shop.
Food, fuel and energy costs have jumped recently in part due to the Ukraine war and it is squeezing household finances.
Food prices are now the second most important concern to families after spiralling energy bills, Kantar said.
According to Kantar, 22% of households now describe themselves as "struggling" to make ends meet, with the rising price of the weekly shop a concern for over nine in 10 of these people.
Prices are going up fastest for products such as dog food, savoury snacks and fresh beef, it said, although they are falling for alcoholic spirits.
"People are really feeling the squeeze at the supermarket tills and they're having to stretch their budgets further to accommodate rising prices," said Fraser McKevitt, Kantar's head of retail and consumer insight.
He said the "significant" rise in cost for a family fry-up puts the numbers into context.
Single mum Mog Grant says she's cooking in bulk to try and save on costs.
She's also changing recipes to make her meals go further.
"We're trying to do more batch cooking and putting things into the freezer," she says. "And I'll add in extra items such as sweet potato, to bulk it up."
Ms Grant, who is a teacher in Westray, has an eight year old daughter and twins who are seven.
She says they don't eat fry-ups and have cut down on meat to save money.
"We have porridge every morning," she says. "I'm having to be thrifty."
Other choices she's making include buying store-bought birthday cakes for her children, which, she says, works out cheaper than baking them herself.
"This year was my first time ever not baking birthday cakes for my twins," she says. "It would've cost more to bake them, with things like butter going up, plus you have to factor in rising energy prices as well."
Inflation is the increase in the price of something over time. For example, if a loaf of bread costs £1 one year and £1.09 the next year, then that is an annual inflation rate of 9%.
The Bank of England has warned inflation might reach 10% within months.
It comes as separate research from YouGov found that two in five Britons have been forced to reduce or stop spending on clothes, eating out, non-essential food items and takeaways over the last six months.
Meanwhile, one in five has cut or stopped spending on day trips, holidays and fuel.
Despite these pressures, the UK was still set to splash out on food and drink over the Platinum Jubilee bank holiday weekend, Mr McKevitt said.
He said that the four-day bank holiday weekend was likely to boost supermarket sales as people celebrated with friends and families and bought alcohol, soft drinks, barbeque foods and desserts.
According to Kantar, UK grocery sales fell by 4.4% in the 12 weeks to 15 May compared with the same period last year, when stay-at-home rules boosted sales.
Discounter Lidl was the fastest growing grocery chain, with its sales increasing by 6% in the period. That was just ahead of rival Aldi whose sales were up 5.8%.
Tesco remained the UK's biggest supermarket, expanding its market share share for the 17th month in a row to 27.4%.